Driving Andy Preuninger's 5 Favorite Porsche 911 GT Cars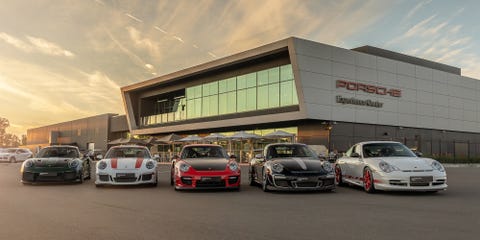 Car and Driver
Andy Preuninger curating his five favorite Porsche 911 GT cars is like Paul McCartney picking his top Beatles tunes. Preuninger is the director of the GT model line, which means he's the man responsible for some of Zuffenhausen's most memorable track tools. While you may not agree with each of his selections, you've got to respect a playlist when it's penned by the man who made the music.
In anticipation of the upcoming Porsche 911 GT3, Preuninger's picks—some of the most coveted 911 models in history—were air-freighted from Germany to Southern California. Lined up in the paddock of the Porsche's Experience Center in Carson, California, the vehicles inspire a childlike wonder at how such distinct personalities can emerge from a shared heritage. Their rarity also made the insurance certificate's quarter-million Euro-per-vehicle valuation seem conservative.
Here's a breakdown of the GT models we spent four hours flinging around Porsche's 1.6-mile circuit.
Advertisement – Continue Reading Below
Porsche 911 GT3 RS (996)
Off-the-rack 996 GT3s were once the underdogs of the track world, but their ugly duckling status later dissipated when their analogue traits became endearing to Porsche hardliners.
Now that values of these first-of-the-liquid-cooled GT cars have gone the way of Apple stock, consider this bit of unobtanium: The 996-series GT3 RS, of which only 682 were built between 2003 and 2005. You could have it in any color (as long as it was white), and a choice of red or blue trim in homage to the O.G. Carrera RS 2.7. More crucial, this punchier iteration shed 110 pounds thanks to its carbon-fiber hood and polycarbonate rear window, among other bits.
Sharing suspension geometry and hub assemblies with its race counterpart, the 996 GT3 RS is powered by the same Mezger 8200-rpm 3.6-liter flat-six from the standard GT3. But this leaner, meaner version was never available in U.S. or Canadian markets due to its standard roll cage, further cementing its mystique to stateside fanatics.
This very special 996 tips the scales at a claimed 2998 pounds fully fueled, and was running on fumes when we sampled it because it wasn't allowed to fly with much gas in its 23.5-gallon tank. That sensation of lightness is palpable through the Alcantara wheel, which rotates with reassuring accuracy and links to a suspension that's taut, precise, and controlled. Though potent for its time (and deliciously high-revving), the 375-hp powerplant can't compete with the later, blindingly powerful RS cars. However, the real gem here is the chassis, which was remarkably stiff for its day and boosts confidence in high-speed corners.
The 996 doesn't offer the ultimate grip of later cars, partially since its Michelin Pilot Sport N4 tires lack the stickiness of newer compounds. But as a pure driver intent on carving apexes and delivering palpable driver feedback, the 996 GT3 RS is a treat to pilot at speed thanks to its honest underpinnings and seat-of-the-pants simplicity.
Porsche 911 GT3 RS 4.0 (997)
The 997-series GT3 RS 4.0 is arguably the most special car on the grid, and not just because production was limited to 600 units worldwide. The naturally aspirated 4.0-liter engine was the biggest powerplant in a 911 to date and packed a plethora of metallurgical exotica from titanium connecting rods to a crankshaft yanked straight from the 911 GT3 RSR race car. Weight was trimmed with carbon-fiber bodywork and seats, while aero was aided by Porsche's first use of aero flicks on a production car and a massive rear wing that helped produce 426 pounds of downforce at 193 mph.
Some GT3 911s get lost in the mix, but the RS 4.0 was always revered by enthusiasts for its hardcore reputation, which helps explain the tulip craze phenomenon which has driven its sale price to as high as $750,000.
While Porsche's 997 series earned a reputation for everyday drivability, the GT3 RS 4.0 feels quite the opposite—from its hair-trigger throttle response to its short-throw shifter and stiff, grabby clutch. That edginess would make your morning commute stressful, but becomes sharply satisfying at the track where its motorsports roots make the license plate just above the centrally mounted exhaust all but incomprehensible.
The RS 4.0's tightly wound personality comes across strong through its ironclad suspension, which helped it achieve a Nürburgring Nordshcleife time of 7:27. But the most remarkable part of the equation is the free spinning flat-six, which doesn't produce its peak 500 horsepower until a dizzying 8250 rpm. Even more, the engine's featherweight reciprocating mass enables lightning-quick rev climbs and equally snappy drops; few cars are more challenging to properly heel-toe, but even fewer are as wonderfully gratifying to get right.
Porsche 911 GT2 RS (997)
The spiritual predecessor to the 997 GT2 RS was the 996 GT2, one of the last certified widowmakers produced by Porsche's mad scientists thanks to its whippersnapper boost and lack of traction control. This time around, the GT2 RS climbed to a stunning 620 horsepower routed to the rear wheels and advanced stability and traction control systems which could be easily disabled via dashboard buttons.
The 997 GT2 RS certainly looked the part when only 500 specimens were unleashed to the world in early 2011. It boasted a curb weight of only 3085 pounds and aggressive visuals including flared front wheel arches, a contrasting carbon fiber hood, and twin air intakes that look like they were ripped off a fighter jet. Better yet, the GT2 RS appeased purists by mating exclusively to a six-speed manual. To many, this was the last of the truly small batch batshit RS cars.
What a difference twin, variable-geometry turbochargers make. Climbing into the GT2 RS from the naturally aspirated GT3 RS 4.0, it's all but impossible not to involuntarily gasp every time the tach climbs past 3000 rpm and pegs you to your carbon-fiber buckets. The pull from this motor is immense, and the gearbox's flat shift capability means you can mat the throttle in-between shifts for nearly seamless, lag-free cog swaps.
It may not seem logical for a 3085-pound rear-drive turbo car to have balanced handling, but the GT2 flies in the face of conventional wisdom. Turn-in is responsive, and following slight understeer in low-speed corners (which is characteristic of its predecessors as well) the load-bearing Pilot Cup 2s claw into tarmac and deliver strong traction, assisted by the engine's rearward weight distribution. Counterintuitively, the GT2 RS becomes surprisingly manageable with all electronics off: Don't do anything stupid, and its innate neutrality coupled with its outrageous power made this one of the most eye-opening revelations of the afternoon.
Porsche 911 R (991)
The 911 R's debut at the 2016 Geneva Motor Show might have confounded the uninitiated, since its sedate, spoilerless looks seemed to bely its $184,900 asking price. But the cognoscenti had the last laugh: with only 991 of these sleepers built, its specialness became secured with exorbitant dealer surcharges and rumors of some trading hands at over a million bucks.
Owners reveled in the symbolism of the new car that tipped its hat to the original 1967 911R, which battled at legendary road rallies like the Targa Florio. Packing a GT3-sourced 500-hp naturally aspirated 4.0-liter, the 911 R weighed a mere 3042 pounds—about 110 fewer pounds than its big-spoilered GT3 RS counterpart. And while its seemingly innocuous looks might not have turned heads at Monaco stoplights, drivers reveled in the fact that carbon-fiber body panels and a magnesium roof made this a unique steed. Most memorably, the naturally aspirated 911 R with the manual gearbox was believed to be the last great analogue GT car, until the later (but not so rare) GT3 Touring famously challenged its claim to fame.
Porsche 911 R (991)
While the gentlemanly concept of a spoilerless track car implies a certain degree of approachability (which this 911 most definitely possesses), the sounds and sensations of its committed chassis douse it with a gratifying element of rawness. The din of the free-breathing flat-six escalates as it revs to the 8500 rpm redline (slightly reduced from the GT3 RS's 8800 rpm max), and the glorious howl is complemented by the drivetrain's mean, seat-compressing thrust. Press the Sport button on the dash, and downshifts from the smooth-but-positive shifter are automatically rev-matched.
This is the first car of the group that rotates easily in low-speed corners thanks to its rear-axle steering, which seems to defy the vehicle's natural path. That bit of electronic wizardry is countered by old school tricks like reduced sound insulation and shorter gearing to yield a focused driver that can be both fearsome on the track and inviting on the road.
Porsche 911 GT2 RS (991)
If the supercar arms race against Modena, Sant'Agata, and Woking did anything to the team in Zuffenhausen, it helped forge superlatives like the 700-hp 991 GT2 RS. Though its 3376-pound curb weight was the heftiest yet for a Porsche 911 GT car, the GT2 RS also came with a compendium of tech and tuning intended to make it quicker around a race track including an electronically controlled limited-slip differential, a water sprayer to cool the heat exchangers, and a suite of driver aids intended to wrangle all that brawn routing to the rear wheels.
While the naturally aspirated 991 GT3 RS offered an arguably more organic driver experience, the GT2 RS earned ultimate bragging rights for RS fans—not to mention Porsche, which claimed the production-car lap record at the Nürburgring Nordschleife with this car.
You'd think climbing Preuninger's ladder would finish in a terrifying denouement, but the GT2 RS proves that outrageous power mustn't mean uncontrollable speed. Sure, there's aggro bits like lightweight Gorilla glass and a carbon-fiber roof. But there's also a level of precision and progressiveness to the power delivery that makes the whole demented package work surprisingly well.
This is the first GT2 model with a PDK dual-clutch transmission, let alone a mandatory one. But when tasked with managing the lightning-fast spools of power and freight-train-stopping deceleration, paddle shifters are the only sensible solution for attacking a track in anger. The GT2 RS can produce gut-wrenching G forces, as well it should: this is a giant slayer of a 911, the big bad wolf built for devouring enemy supercars from distant lands. But it's also strangely, unexpectedly, a honey—a mischievous co-conspirator that has your back even when all systems are off, as long as you respect its oversized capabilities. Chalk one up for mad engineering: Despite an ambitious mission statement, Preuninger's 991 GT2 RS proves that science and careful evolution of the breed can yield a beast that both booms and behaves.
This content is created and maintained by a third party, and imported onto this page to help users provide their email addresses. You may be able to find more information about this and similar content at piano.io
Advertisement – Continue Reading Below