Every 2021 Full-Size Pickup Truck Ranked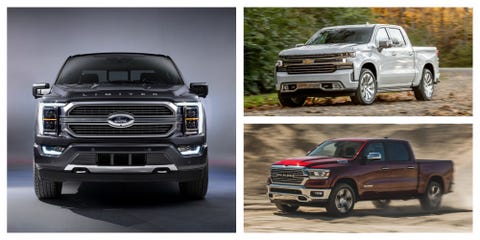 Car and Driver
Turn any friendly neighborhood barbecue into a backyard wrestling match with this simple trick: declare your pickup king. Well guess what, brother? Being the best isn't about who has the biggest Calvin and Hobbes sticker on the rear window. When it's time to step into the square circle, America's best-selling vehicle is the cream of the crop, and the fight among them is closer than ever.
Trucks today are capable of accelerating quicker than sports cars like the Porsche 718 Cayman GT4, and can tow up to seven tons using conventional towing. That's a lot of folding chairs and steel cages. The truck is the backbone of America, as in 2019, pickups represented over 3.1 million vehicle sales in the U.S., or more than the entire population of Iowa. Each of these trucks can handle classic pickup needs with ease, and if you haven't already sorted yourself into the Toyota, Nissan, Ram, Chevy, or Ford camps, we've ranked the segment's players from worst to best to help you in your search.
Advertisement – Continue Reading Below
8. Toyota Tundra
The Toyota Tundra has been around in pretty much the same form since 2007—that's pre-Instagram if you need a cultural reference point. So, it's old. But, the Tundra offers a spacious cabin and a decent roster of standard features, including Apple CarPlay and Android Auto phone integration functionality for most models. A 5.7-liter V-8 is the only engine option, an oddity among full-size pickups, which generally offer a plethora of engine choices. The Toyota's V-8 engine delivers mediocre fuel economy and towing performance, but the truck itself at least shines in off-road capability even in base form. The Tundra TRD Pro model adds to that dexterity with new Fox 2.5-inch internal-bypass shocks and lighter-weight 18-inch BBS wheels.
Base price: $35,270
Engines: 381-hp 5.7L V-8
Max Towing: 10,200 lbs
7. Nissan Titan
The Nissan Titan, like the Toyota Tundra, exists slightly outside of the mainstream in this segment. It lacks engine choices—there is but one 400-hp V-8 option—which severely limits configurability relative to its competitors, and the Titan's overall execution seems lacking. Its ride quality is poor and the steering lacks sharpness; look to the Pro-4X trim for off-road capability, but look everywhere else in terms of towing capacity as the Titan has the lowest in the light-duty class. Every model now has a 8.0-inch touchscreen with Apple CarPlay and Android Auto, which is something fleet versions of its domestic competitors just don't do.
Base price: $38,145
Engines: 400-hp 5.6L V-8
Max Towing: 9660 lbs
6. Chevrolet Silverado 1500
After a full redesign the Chevrolet Silverado 1500 doesn't feel quite as new as you'd expect. Its new body bears only a face a mother could love, the interior is mediocre, and the suspension behavior isn't terribly refined. Those whiffs are offset by its new 6.2-liter V-8 that can drop up to six-cylinders for fuel savings, as well as the available turbocharged 2.7-liter four-cylinder that can tow up to 9300 pounds. The brakes offer stellar stopping power, and the four-door crew cab has superior rear-seat headroom. Chevy's also added their Multi-Flex tailgate as an option for 2021 models, making the bed of the Silverado more useable than ever. Silverados with the 277-hp turbodiesel engine in 2WD are the most fuel efficient in the segment with an EPA-estimated 33 mph highway rating.
Base price: $28,195
Engines: 277-hp 3.0L turbocharged diesel inline-6, 285-hp 4.3L V-6, 310-hp 2.7L turbocharged inline-4, 355-hp 5.3L V-8, 420-hp 6.2L V-8
Max Towing: 12,200 lbs
5. GMC Sierra 1500
If you can swing the new GMC Sierra 1500's price premium over its mechanically identical, Chevrolet-badged sibling (the Silverado), do so. The GMC is simply more attractive than the Chevy. We've ranked the Sierra above it because the extra money seems worth it when staring both trucks right in the eyes. Like the Silverado, the Sierra has five different engines, three different transmissions, and is available in either rear- or all-wheel drive. Although there's no high-flying off-roader option like the Ram TRX or Ford F-150 Raptor, a Sierra AT4 model is available with 2.0-inches of suspension lift and other off-road equipment. Unfortunately, the pricier GMC suffers from the same unimpressive interior styling and firm ride quality as the Silverado, but the extra chrome does wonders for GM's half-ton pickup design.
Base price: $29,295
Engines: 277-hp 3.0L turbocharged diesel inline-6, 285-hp 4.3L V-6, 310-hp 2.7L turbocharged inline-4, 355-hp 5.3L V-8, 420-hp 6.2L V-8
Max Towing: 12,200 lbs
4. 2020 Ford F-150
The Ford F-150 has been a full-size favorite for decades, and nearly 1 million F-150 pickups were sold last year. So, it's little wonder why the Ford has become ubiquitous and familiar. The fourteenth generation Ford debuted in 2020 with a new 430-hp hybrid powertrain with 570 lb-ft of torque. That's a 30-horsepower and 70 lb-ft improvement verses the new nonhybrid twin-turbo 3.5-liter V-6 for those keeping track. The hybrid powered pickup gets an EPA-estimated 24 mpg for both city and highway travel, putting it fourth overall in fuel efficiency for the segment behind diesel-powered Chevy Silverado and Ram 1500. The interior is also improved in terms of materials and ease of use. An optional Work Surface allows you to transform the front row into a work table. New variable-assist steering, standard on the higher trim King Ranch model and above is tight and direct, and even on lower trims the ride is quiet and composed.
Base price: $30,635
Engines: 290-hp 3.3-liter V-6, 400-hp 5.0-liter V-8, 325-hp twin-turbocharged 2.7-liter V-6, 400-hp twin-turbocharged 3.5-liter V-6, 250-hp 3.0-liter diesel V-6, 400-hp twin-turbocharged and intercooled DOHC 24-valve 3.5-liter V-6; permanent-magnet synchronous AC motor, 47 hp; combined output, 430 hp, 570 lb-ft
Max Towing: 12,000 lbs
3. 2020 Ford F-150 Raptor
Packed with a powerful 450-hp twin-turbo V-6 and an off-road-ready suspension with adaptive shocks to soak up potholes and landings off of sweet jumps, the Ford F-150 Raptor is just plain rad. But this is no one-trick brute—it's nearly everything you might never need in a truck and useful. The SuperCrew is rated to tow up to 8000 pounds, so the Raptor can haul more than just ass. Its wide fenders and large off-road tires can make navigating parking lots and narrow streets a challenge; we prefer to think of them as reminders as to where the Raptor truly belongs.
Base price: $55,150
Engines: 450-hp 3.5L twin-turbo V-6 engine, 10-speed automatic transmission
Max Towing: 8000 lbs
2. Ram 1500 TRX
The nearly 3.5-ton Ram 1500 TRX is a lot of truck, but it knows how to use it. The 702-horsepower hellcat engine is a screamer, and despite its heft, the TRX gets to 60 mph in just 3.7 seconds, making it the quickest truck we've ever tested. Bilstein dampers underneath provide more than a foot of suspension travel, allowing its 35-inch Goodyear Wrangler AT's to droop. It's beefy too, measuring 5.9 inches wider and 3.3 inches taller than the regular Ram 1500, but inside it's just as luxurious. A 12-inch touchscreen infotainment system is standard, and a head-up display, heated and ventilated front seats, and carbon-fiber accents are available options. Many aspects of the TRX make it the greatest truck as nothing else can cruise to, climb up, and fly over whatever's ahead of it quite like this.
Base price: $71,790
Engine: 702-hp supercharged 6.2-liter V-8 engine, 10-speed automatic transmission
Max Towing: 8100 lbs
Base price: $30,145
Engines: 260-hp 3.0L diesel V-6, 305-hp 3.6L V-6 with eTorque, 395-hp 5.7L V-8, 395-hp 5.7L V-8 with eTorque
Max Towing: 12,750 lbs
This content is created and maintained by a third party, and imported onto this page to help users provide their email addresses. You may be able to find more information about this and similar content at piano.io
Advertisement – Continue Reading Below