These Cars Are Out of Production and Discontinued for 2021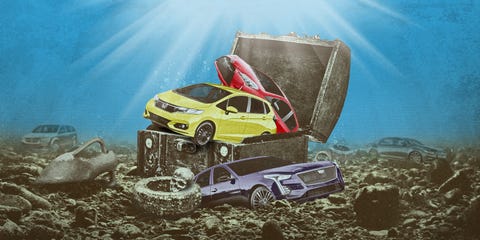 Ryan OlbryshCar and Driver
Trunks are an endangered species. While there are several vehicles listed here—one of which will merely be on sabbatical for a year—not one of them is a crossover. Okay, the Dodge Journey might plausibly be a crossover, but it's really more like a front-drive zit with seating for five.
Every year, manufacturers tweak the model mix to reflect the market they expect to encounter in the upcoming year. Just like the cars discontinued last year, 2021 will bring far fewer two-door coupes, four-door sedans, and what's left of available wagons. It also means fewer small economy cars as they're superseded by small, economy crossovers.
Will the world be better for these changes? Let's hope 2021 is nothing but joy and life. Because, well, we're sick of 2020, and we still have a few months left.
Advertisement – Continue Reading Below
Acura RLX
The Acura RLX has sold in horrifyingly dinky numbers. During 2019 only 1019 made it into the hands of United States customers. Way back in 1988, Acura sold 70,770 Legends, their V-6-powered large luxury sedan. The once mighty has fallen, and now it's time to bury it. So after 35 production years, the Legend family line, the last of the original Acura models, will breathe its last VTEC breath.
Alfa Romeo 4C
Likely the most uncompromised and most demanding sports car available, it's hardly surprising the Alfa Romeo 4C never sold in significant numbers. In fact, the sales were hardly detectable. Alfa only found 144 buyers for the 4C Spider and leftover 4C coupes in 2019. Sales so far during 2020? How about only 71. Toyota has that many Corollas fall off trains every week. And yet, there's a certain teary-eyed sadness about the 4C Spider's passing. There may never be anything like it again.
BMW i8
In June, BMW built its last i8 small-engine/big-battery sort-of supercar. Available as a coupe or roadster, the i8 used a Lilliputian 1.5-liter, three-cylinder internal combustion engine paired with a battery pack and electric motors to produce a total of 369 horsepower. Dang modest for a car that looks this exotic, this futuristic, and this totally wicked. There will likely be another car of this sort in the BMW lineup soon, even if it's not called i8. Mostly likely it will show up first in the next Mission: Impossible movie with Tom Cruise driving it to a doctor's appointment to have his prostate checked.
Cadillac CT6
The names still resonate in American car culture: Fleetwood, DeVille, Seville. Names that carried substance, presence, and prestige wherever they went. A Cadillac sedan meant success. But with a stupid name like CT6, this last—and one of the best—of the large Cadillac sedans didn't stand a chance. Not even with the 4.2-liter, 550-hp, twin-turbocharged, DOHC, 32-valve, Blackwing V-8 under the hood of the CT6-V high-performance version. CT6 sales in the U.S. peaked in 2017 at 10,542 units. A pathetic 7951 made it through dealers in 2019. Sales for this big sedan were better in China. Maybe someday big sedans will return as the generation being raised in crossovers rejects what their parents drove. Or maybe not.
Chevrolet Impala
The last Chevrolet Impala was produced February 27, 2020, at General Motors's Hamtramck plant in Michigan. A mere few days later, the coronavirus hit. Coincidence? You decide.
Chevy has used the Impala name on and off since 1958, and it seems unlikely this will be the end. It may just be too good a name to resist using on some future autonomous crossover pod.
Chevrolet Sonic
Back in 2011, Chevrolet was looking to successfully launch the new Sonic subcompact. So, in the parking lot of California's Magic Mountain amusement park, it had former pro skateboarder and then-MTV sensation Rob Dyrdek launch one up into the air, do a full barrel roll, land on another ramp, and drive off. The Sonic was introduced as a 2012 model. In most of the world outside of the U.S., the same vehicle was simply the second generation of the yawn-inducing Aveo. Assembled in the same Lake Orion, Michigan, plant as the all-electric Bolt, the Sonic was the only subcompact car being screwed together in the U.S. The line producing the Sonic will begin assembling a new crossover-ish version of the Bolt called the Bolt EUV in 2021.
Dodge Grand Caravan
The last Dodge Grand Caravan, the fifth generation, was introduced for the 2008 model year and was archaic by about March 2010. It was a simple box powered at the end by Chrysler's familiar 3.6-liter Pentastar V-6. It was inexpensive to buy, incredibly useful, and cheap to rent at Enterprise. So, Dodge kept it around because why not? The Grand Caravan is being replaced by the Chrysler Pacifica, introduced for 2017, and the de-contented version of that avant-garde minivan introduced last year, the Chrysler Voyager.
The minivan is dead. Long live the minivan.
Dodge Journey
C/D's least favorite SUV, the last vehicle sold by Fiat Chrysler with a four-speed automatic transmission and a vehicle no one thinks about unless Avis doesn't have anything else at the airport, the Dodge Journey is finally dying. About damned time.
Think of the Journey as a tall wagon version of the Dodge Avenger sedan and then try and remember what the Avenger looked like. It leaves production already shorn of any V-6 or all-wheel-drive options. All 2020 Journeys are front-wheel drive and equipped with a 173-hp, 2.4-liter four-cylinder engine. The only transmission is the last of Chrysler's notorious four-speed Ultradrive automatics introduced for the 1989 model year for minivans and classic sedans like the Dodge Dynasty and Chrysler New Yorker. It will not be mourned.
Ford Fusion
Just when we thought signs of end times couldn't be piled any higher, Ford, producer of the Fairmont, Crown Victoria, Taurus, and Focus, will no longer make a sedan in the United States. The Fusion was produced at the Hermosillo Assembly plant in Sonora, Mexico, but its gone over the cliff Thelma and Louise style with the Lincoln MKZ it shares a platform with. Although sales had declined over the last few years, the Fusion still sold over 166,000 times last year in the United States, even offering a 325-hp Fusion Sport in 2017 and 2018. Unfortunately for Ford, some of its previous Ford-car customers haven't returned for the Escape or Edge, and have looked to Chevrolet's Equinox for a crossover alternative or to Honda Civics and Toyota Corollas for a sedan.
Ford Mustang Shelby GT350 and GT350R
Honda Civic Si and Civic Coupe
In the misty past of the 1990s, the Honda Civic coupe was the car upon which the "sport compact" fad was built. But practically no one buys coupes today, and much of the slack in the Civic line has been taken up with the five-door hatchback model upon which is based the insane Civic Type R. The 2021 model year is a transition year for the Civic as its tenth generation fades away in favor of an all-new 11th-generation car during the calendar year. But the two-door ain't coming back. Concurrent with the announcement that the Civic coupe had been euthanized like a rabid rat, Honda also let it be known that the beloved Civic Si sedan will hibernate for a year before returning for the 2022 model year. It's likely the next Si will be offered as both a sedan and a hatchback.
Honda Fit
As far as small vehicles go, the Honda Fit was always amongst the most satisfying to drive. But this segment was always marginal in the U.S. Sales peaked in 2008 with 79,794 going to U.S. consumers but were down to 35,414 in 2019 and tanked during 2020 before COVID-19 arrived. Called the Jazz in many other markets, the car will continue in production for the rest of world.
Hyundai Elantra GT
Hyundai is ending the hatchback version of the Elantra, by killing one of only a handful of hatchbacks left in the U.S. market. Hyundai said they are instead focusing on SUVs like the subcompact Venue and Kona models. The Elantra GT arrived in 2013 and was was recently redesigned in 2018. For now, the only hatchback left in Hyundai's lineup is the three-door Veloster, and it's hotter Veloster N version.
Jaguar XE
In 2014 Jaguar's car sales were dismal, and the automaker needed to add another four-door sedan to its limited lineup. The Jaguar XE was supposed to be the entry-luxury sports-sedan to steal buyers from the BMW 3-series and Mercedes-Benz S-class, and net sales like the Jaguar X-type once did when Jaguar could sell up to 30,000 of just a single model. It went on sale here in the U.S. in 2017 with a 240-hp base engine and a price tag under $36,000. We drove a 340-hp supercharged V-6 powered XE for 40,000 miles during our long-term test and ate through 10 replacement tires and three bent wheels. A refreshed XF will carry the flame, with technology updates and a lower base price. The XE's peak year was in 2017 with 9278 sold, but only 886 have left dealer lots as of June 2020.
Jaguar XF Sportbrake
Like the XE, Jaguar's station wagon is going the way of the horse and buggy for the U.S. market. The Jaguar XF Sportbrake, which according to a quick nationwide search there are less than a dozen of for sale, is dead. It placed last overall in our 2018 wagon comparison test, but did so having won the fun-to-drive category thanks to its good body control and seemingly endless thirst to be pressed harder into corners. Few people buy wagons, but even fewer buy Jaguar XFs, so its easy to imagine how low the sales volumes for these were considering the supercharged V-6 powered XF Sportbrake started around $71k. That's nearly $3000 more than a base Mercedes-Benz E-class wagon. The luxury wagon segment is now left up to Audi, Mercedes-Benz, Porsche, and Volvo.
Lexus GS
Playing middle child between the front-drive ES series and the rear-drive LS battle cruiser, the Lexus GS was easy to overlook even when it first went on sale in 1993 as a gussied-up version of the Japanese-market Toyota Aristo. But all GS models, with rear- or all-wheel drive, are built with impregnable Lexus quality and the silent luxury one expects of the brand. It's going to be a used-car bargain for years to come. Also passing from the scene is the sneaky-good GS F. The last 200 examples of GS 350 models for the U.S. will be special-edition Black Line GS Fs.
Lincoln Continental
While this Lincoln Continental will pass from the scene after 2020, it's not likely to be the very last Continental that Lincoln builds. After all, the name first appeared in 1939 only to die in 1948. Then it came back from 1956 and lasted until 2002. It's just too good a name to keep down forever. Handsome and broad shouldered, this latest Continental wasn't quite the traditional rear-driver that old-school buyers want or the leading-edge hipster yacht that may have sold to rich millennials. It's simply the fact that much of the Continental's cachet has been usurped by the resurgent Navigator. With Lincoln's bread and butter now being SUVs, the Navi is now firmly the flagship of the line.
Lincoln MKZ
Based on the lowly Ford Fusion, the Lincoln MKZ is a throwback to those lousy years when Lincoln dumped all its good names in favor of a meaningless series of letters. In fact, the MKZ was called the Zephyr during its first year in production. Never incredibly popular, the MKZ's best sales year was 2007 when 34,363 found buyers. In 2019, only 17,725 found homes. Whatever place the MKZ had in Lincoln's line has been taken up by a mix of the Aviator, Nautilus, and Corsair crossover SUVs. While the name MKZ is likely gone forever, our money is on the name Zephyr returning someday and on yet another crossover.
Mercedes-Benz SLC/SLK
Little brother to the SL, the Mercedes-Benz SLC (called SLK until 2016) has been caught in a world that has left roadsters behind, particularly roadsters that look like compromises compared to their big brothers. But the world may change again. And some day there may be another SLK/SLC. But don't count on it.
Toyota Yaris
This is sort of deceptive. While the first two generations of the Toyota Yaris were dumpy machines Toyota itself made, the third generation, sold here since the 2016 model year, is actually a redecorated version of the truly good Mazda2. So, it's a shame that there's no real market right now for small cars as consumers go lemming-like off the crossover cliff. But Toyota and Mazda have bonded, and it looks like a solid marriage. The last Yaris may wind up best remembered as the first in a long line of collaborations.
This content is created and maintained by a third party, and imported onto this page to help users provide their email addresses. You may be able to find more information about this and similar content at piano.io
Advertisement – Continue Reading Below