Land Rover Defender 90 D250 2021 UK review
What is it?
Well, that's interesting: roughly a year after introducing it, Land Rover has dropped the four-cylinder diesel engine from the Defender. Which means that if you want a Defender that drinks its fuel from the black pump, you now have just one engine to choose from: the recently introduced Ingenium 3.0-litre straight six. Lovely stuff.
It's available in three guises: D200, D250 and D300, with power outputs ranging from 197bhp to 296bhp. Here, we're sampling the mid-level D250, which kicks out a handsome 245bhp and 420lb ft of torque, enabling our three-door Defender 90 test car to hit 62mph from a standstill in a respectable 8.0sec.
Jaguar Land Rover was extremely late to the party in launching this particular powerplant, but the firm is due credit regardless, because it has made a pretty sweet engine.
Under the bonnet of the Defender, it doesn't sound quite as smooth or refined under lighter throttle loads than plenty of other straight-six oil-burners you could care to name, but it isn't far off at all.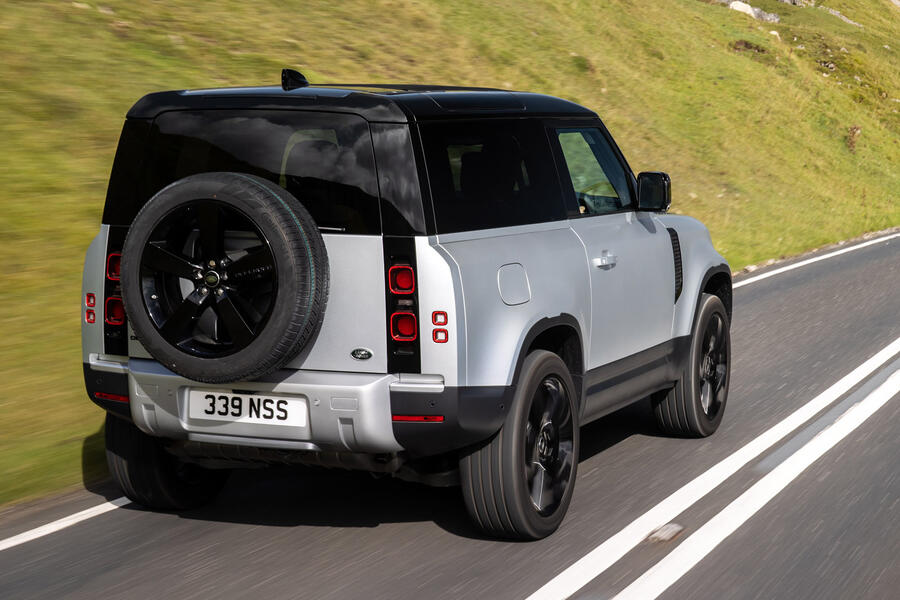 What's it like?
Performance is very decent, too, although while the Defender 90 feels fast enough to make its claimed 8.0sec sprint time appear legitimate, I wouldn't go so far as to say that its acceleration seems entirely effortless.
Bury the throttle and you really get a sense of how much work the motor is having to do to shift the Defender's 2.2-tonne mass and bluff, boxy body with a bit of urgency. It's like you're accelerating on really soft, viscous asphalt. It's a little strange but impressive nonetheless.
Unsurprisingly, the engine's torque arrives in one big, fat dollop, and as the revs spiral towards the redline, it quickly edges into breathlessness. It does sound good up there, mind, like a low-key, malevolent growl.
However, the ZF-sourced eight-speed automatic gearbox isn't the most quick-witted in the world. Were this a conventional SUV, you would probably want it to be a bit quicker on the uptake, but the Defender isn't really a conventional SUV, is it?
We've extensively covered just how capable the long-wheelbase 110 version of this 4×4 is in the wilds, and while this one stayed firmly on the road during our brief test drive, the same story no doubt applies. In fact, the Defender 90 would be even better, thanks to the superior breakover angle afforded by its shorter wheelbase.