Mercedes-AMG E63 S Estate 2020 review
What's it like?
I haven't driven old and new E63s back to back, which would be the optimum way to really discern how great the improvements are on roads you don't know. But our earlier drives in an E63 found that this car wasn't as absorbent as it could and should have been, on poorer surfaces in particular, and that's absolutely not a thought that occurred to me this time around. 
The ride is well rounded and relatively engaging for a two-tonne car, which feels predominantly rea- drive but has 4WD traction on tap when you need it – which can be often, because its performance is effortlessly responsive. The V8 sounds good, pulls early and keeps going strongly. 
Derestricted autobahns surely show this car at its best. One moment you can be waiting for traffic to clear at 80mph, the next, after some easy bellowing from the quick-to-respond V8, you can be exceeding the supposed 180mph (290kph) limiter. I saw 186mph (300kph) on the speedo and it was still pulling.
You can mess with damper modes, but my suspicion is that you'll find one you like (probably Comfort) and stick with it. Likewise, there are myriad other options for engine, gearbox responses, exhaust loudness and so on. There are even programmable quick buttons on the steering wheel to switch through these, while the rest of the wheel spokes are cool once you get used to them, although the haptic volume control is, irritatingly, less responsive than a physical dial.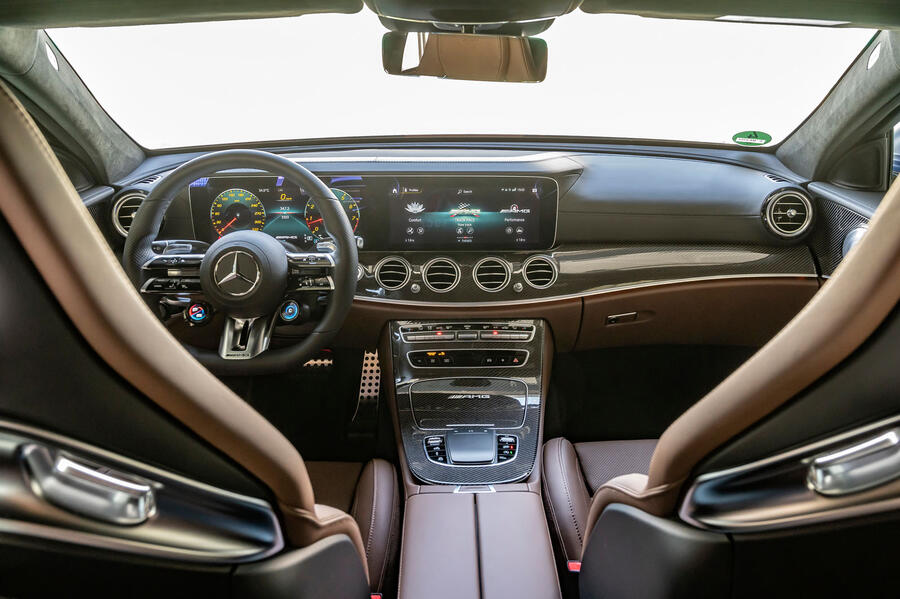 Should I buy one?
In addition to all the performance stuff, the E63 Estate is a big family car. Fit and finish are good and there's loads of room in the back seats and boot. It just so happens that it has a 603bhp V8 in the front of it. Do go to Germany to make sure all of the horsepower is there from time to time.
You suspect that AMG has spent quite a lot of time around the latest Audi RS6 Avant, a compelling car that's the sort of 'dream daily' in a lot of people's fantasy lottery garage. The E63 is back to better vie for that spot.