Rolls-Royce Ghost 2020 review | Autocar
What differentiates customers of a Phantom and customers of the Ghost is how, and how much, they want to shout about their wealth. Where they don't necessarily want a difference is in how their cars drive.
There is a differentiation between the two; it would be wrong if there wasn't. But both have an inherent relaxed character that's enjoyable while being freed from the shackles and compromises of some competitors. A big Bentley, for example, has to do all but 200mph and be a sports car as well as a luxury car. It's very good at attempting to do them all of those things, too, hence fast-acting, strong-force 48V active anti-roll bars to try and control roll but not give a brittle ride. Rolls-Royce just doesn't mind if there's more, and lower-frequency, body lean, because it dispenses with any sporting pretence and so it lets the ride breathe more easily.
On the road, then, there's a relaxed gait and some low-frequency float to match the quietness, but less than you find in the Phantom. The Ghost feels a more tightly screwed car than the bigger Rolls, albeit still comfortably in the realms of luxury. Make a quick lane change and the active rear-steer enables a calm mooch across the carriageway and then ties the rear down quickly, whereas the Phantom or a big SUV would wallow in a little steadying movement.
If you're seeking things to notice, there's a curious, almost lateral shimmy from the rear from time to time, at higher speeds across sharp imperfections. I doubt you would notice this in most cars but, as with a little suspension noise at the front, I guess the silence elsewhere amplifies it. You could always turn up the stereo.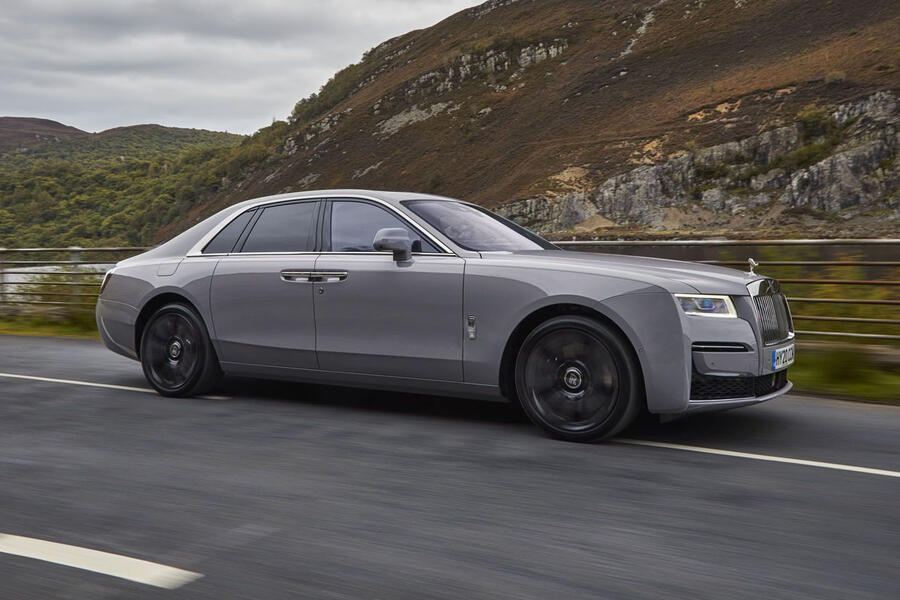 In terms of engagement, the Ghost steers with lightness and moderate speed but brilliant accuracy and a fingertip weight that barely changes. It's odd to say it, but I find that as impressive and engaging as the weightier systems of most sports cars. The steering self centres less strongly than most big cars, but if you're letting the wheel slip between your fingers, remember that you're making the loudest noise in the cabin. Best to feed it back gently.
Other control weights are also expertly judged. Given the Ghost is 'for being driven' as well as 'for driving', Rolls goes to some lengths to make sure it can be brought to a stop, and will step-off again, really smootlhly.