Volvo S90 Recharge T8 2021 UK review review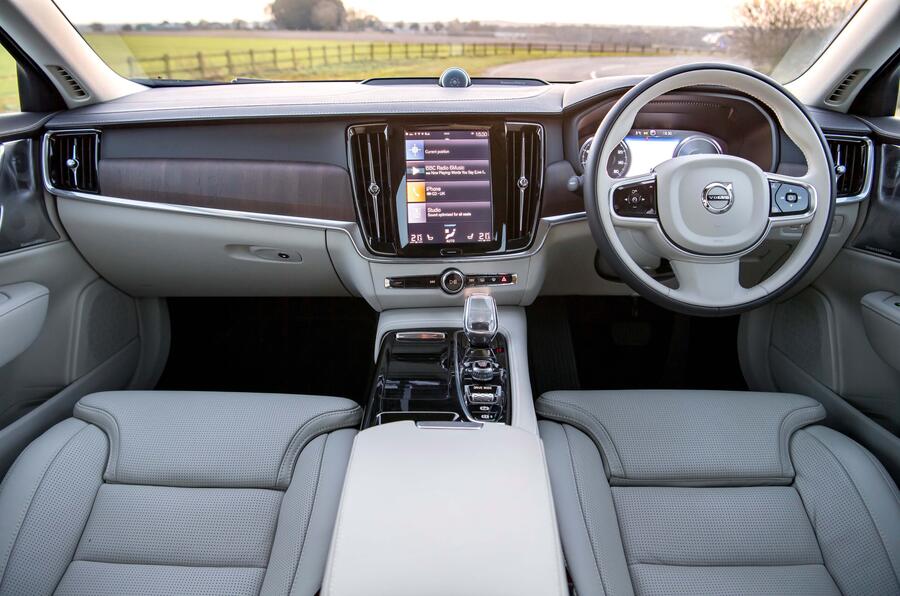 As regards the driving experience, the pairing of a near-300-horsepower petrol engine with a usefully torquey electric rear axle in this car dangles the prospect of more stirring performance than most PHEV saloons can offer, of course. The irony here, though, is that the S90 needs a near-400-horsepower powertrain about as much as it needs a depth gauge and periscope. This is not a sports saloon. It wasn't five years ago, and even with this T8 hybrid powertrain and Volvo's sportiest passive suspension option (adaptive suspension is another technical feature that V90 owners can choose, but S90 buyers can't), it's pretty emphatically not one now.
The S90 is good at being comfortable and mild mannered; never better, in fact, than when wafting around so quietly in electric mode, in which a fully charged battery is worth 25 to 30 miles of real-world range. There's just a little bit of road noise on rougher surfaces from the standard-fit 19in wheels, and the occasional out-of-town fidget from the secondary ride, although the longer-travel 'dynamic' suspension of Volvo's extra-luxurious Inscription spec might help to dial those out.
But the harder you drive the S90, the clunkier, less refined and generally less assured the combustive half of its powertrain seems; and the more starkly its handling composure disintegrates. Compared with the latest plug-in hybrid set-ups, the unresponsiveness and noise level of the S90's highly strung four-cylinder petrol engine can come as a bit of a rude awakening when you suddenly need to give it plenty of power. It feels fast once it has sorted itself out for gear selection and so on – but not very 'together'.