Ford Focus ST 2020 long-term review
More important, however, are the excellent sport seats in the front (unless you're unlucky enough to be sat behind them because they eat rear leg room), fine visibility and radar-operated active cruise control, which is far quicker to react and less annoying than in most other cars, including those costing two or three times as much.
In town, it's less good. It feels quite big, never more so than when trying to squeeze into a tiny car park under a hotel, and while its Orange Fury paintwork attracts a lot of attention, I'm not convinced it's always for the right reason. Or maybe I'm just being oversensitive. But the steering lock isn't exactly generous and, while the clutch is light, if you're manoeuvring at very low engine speeds and engage said clutch, you can hear the revs fall away quite suddenly before they're caught by some clever anti-stall safety net.
Even in their totality, these observations don't amount to serious criticism, just points of which I think anyone thinking of using a manual petrol ST in London should be abreast.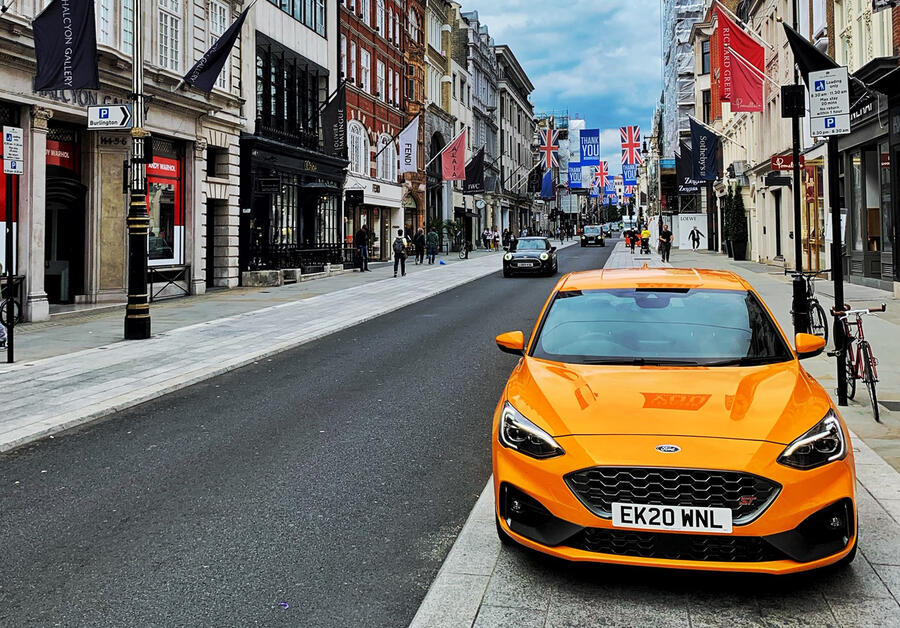 You should also be aware that the infotainment system, with its blue graphics, isn't exactly beautiful, but it does work very well. At home we have a 2017 Volkswagen Golf whose colour touchscreen I've always considered to be the benchmark for cars in this class, but in terms of ease of use, the Focus's runs it very close, if not for easiness on the eyes.
The optional (£100) telephone induction pad also works far better than that fitted to the Mercedes-Benz E300de Estate I ran prior to the Ford. So long as I lob the telephone in its approximate direction, it seems to get charged. In the Benz, I was always fiddling with the telephone to find the right spot and often arriving at my destination for a day's work with an uncharged handheld device.
All I haven't yet done in the ST is a really long journey. We were all set for my annual pilgrimage to the Spa Six Hours but, like so much else, Covid-19 ruined that. Hopefully by the next time we meet, I'll have righted that wrong.
Love it:
Fuel Consumption Not sure I exactly love the above but, as the engine loosens up, it's getting considerably better