Nissan Juke 2020 long-term review
I'm here for two reasons: one, it's the first time I've given the Juke a proper run beyond some motorway-focused trips since lockdown began, and two, there's a new smartphone app I've been invited to trial that promises excellent road trip routes in the UK and Europe.
Maybe it's just me, or London dwellers more generally, but it's a perennial (first-world) problem of mine: I want to go for a drive on some decent roads, but where? The Ultimate Drives app, created by the same people who run driving tours in Europe for typically wealthy supercar owners, lets you pick a road trip via a number of drop-down menus, including location, type (eg mountains, wine routes, coasts and lakes) and adrenaline rating (high, medium or low), and comes up with suggested routes. Its most popular route is, unsurprisingly, the stunning Grossglockner Pass in Austria, but for now we're keeping closer to home with a route entitled 'A run through the Cotswolds'.
I'd whizzed along a large stretch of the M4 to the start point in Castle Combe, reflecting on how I've never thought the Juke was meant for mile-munching but that it actually does this remarkably well. Much of the journey was completed through a torrential downpour, during which I discovered an unwelcome quirk of the Juke – every time the rear wiper moves, something in the instrument panel or stalk clicks. Every time.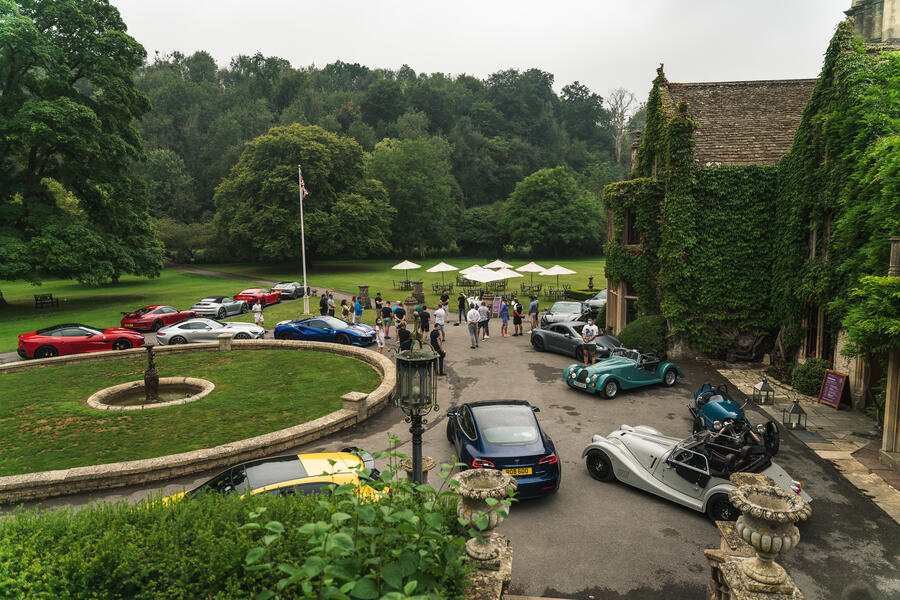 The owners of all the other, well, prettier cars have been invited along as loyal clients of Ultimate Drives, with founder Mark Heather explaining that most people present do at least one European driving tour a year with the firm. The app is where Heather wants the business to develop, though. A basic version is free, but the Premium edition, which includes Google Maps integration, costs £15.99 annually.
Once I've set up the app on my phone, I connect it via wire to the Juke and the route appears in Google Maps through Apple CarPlay exactly as if I'd input any other destination. The difference here is that Google Maps is directing me to a number of waypoints – in this case seven, which ensure a varied, scenic route with plenty of good driving roads.
On my route, four of the stops are pubs or eateries as well as the final destination, giving drivers and their companions plenty of options for food and drink. Heather plans to make the Premium subscription more appealing through tie-ups, be it discounts at restaurants along the way, places to visit or even a deal on a rental car.