Porsche 911 Carrera 2020 long-term review
Given we're not commuting to the office for now, I'm doing far fewer miles, so each journey has a different kind of purpose. I'm also running a Honda E, a short-range electric city car that is proving to be ideal for the 80% of journeys that really are just down the road. As such, the 911 spent 48 hours on my drive before I drove it in anger for the first time.
That drive was wonderfully humdrum – a five-mile trip to a neighbouring town on a Saturday morning – but it was a delight. From behind the wheel, the 911 feels nowhere near as wide as it looks. It manages bumps with far greater compliance than its big wheels and sports car silhouette would have you believe. And, road noise aside, it's quiet and comfortable enough for general pottering around.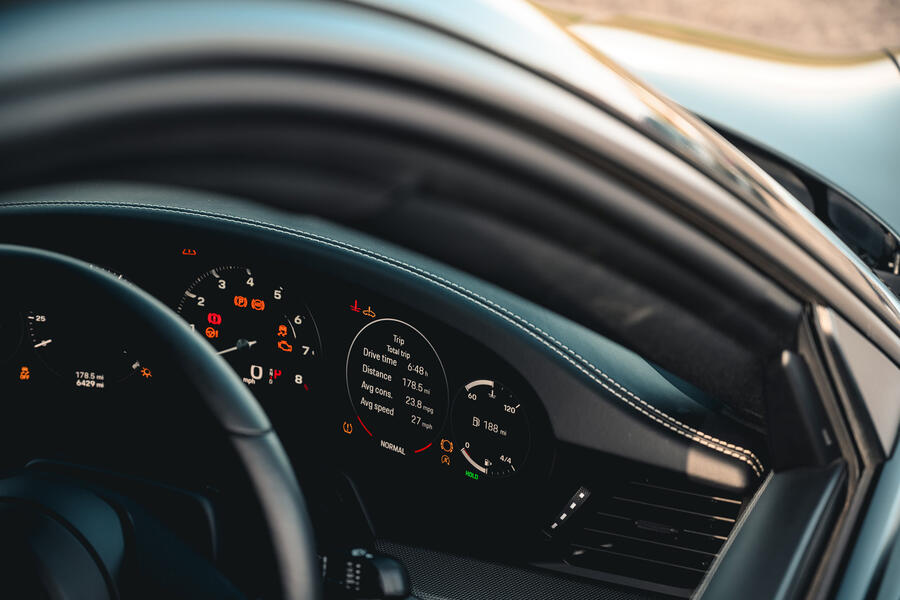 Put your foot down and this 911 feels the right kind of fast: definitely more sports car than supercar, progressive in its power delivery and never threatening to overwhelm either its driver or the road. It flatters and lets you have fun, which is a word I think we'll be coming back to over these next few weeks.
Second Opinion
This car confirms a lesson I learned 30 years ago: that while owners commonly add many thousands in options to their base 911, if they restrained themselves they'd still have a great car. The only thing a 911 needs is LED headlights, ideally the matrix type. Otherwise, a 911 Carrera is terrific out of the box, as this car proves.
Steve Cropley
Back to the top
Porsche 911 Carrera specification
Specs: Price New £82,793 Price as tested £90,891 Options Sports exhaust £1844, 14-way electric memory sports seats £1599, 20/21in Carrera S wheels £1145, Aventurine Green metallic paint £876, Dynamic LED headlights £699, Park Assist with rear camera £464, Black/Island Green two-tone leather interior £422, privacy glass £387, auto-dimming mirrors £387, Porsche crest-embossed headrests £161, Porsche crest wheel centres £114
Test Data: Engine Flat 6, 2981cc, twin turbo petrol Power 380bhp at 6500rpm Torque 332lb ft at 1950 to 5000rpm Kerb weight 1595kg Top speed 180mph 0-62mph 4.2sec Fuel economy 28.5mpg CO2 206g/km Faults None Expenses None