£1.5m Bentley Mulliner Bacalar starts test programme
Owners of the Bacalar can request a bespoke luggage set to fit behind the seats.
The only features carried over from more mainstream Bentleys are the door handles, because of the keyless entry, and the cap of the steering wheel, because of airbag functionality. Interior shapes familiar from other Bentley models include the dashboard and centre console buttons, but entirely new materials are used to set them apart.
These include 5500-year-old riverwood, naturally felled in Cambridge, and wool and tweed from the Scottish Borders. The dials and clock have a dark blue surface, intended to reflect the lake after which the car is named: Lake Bacalar in Mexico.
Bentley design director Stefan Sielaff said: "When we started to develop the Bacalar, we were still working on the EXP 100 GT. It's a good experiment to do things differently. We almost don't see any chrome or traditional materials. It's a big step forward in a modern interpretation of what Bentley can be."
The Bacalar uses Bentley's famed 6.0-litre W12 powertrain to produce 650bhp. That's 41bhp more than the standard W12 and peak torque is raised to 664lb ft. The car can achieve 0-60mph in 3.5sec and has a top speed of more than 200mph.
The Bacalar marks the beginning of a major drive for Mulliner, with the division's boss, Tim Hannig, describing it as "one of the biggest untapped opportunities to satisfy customers".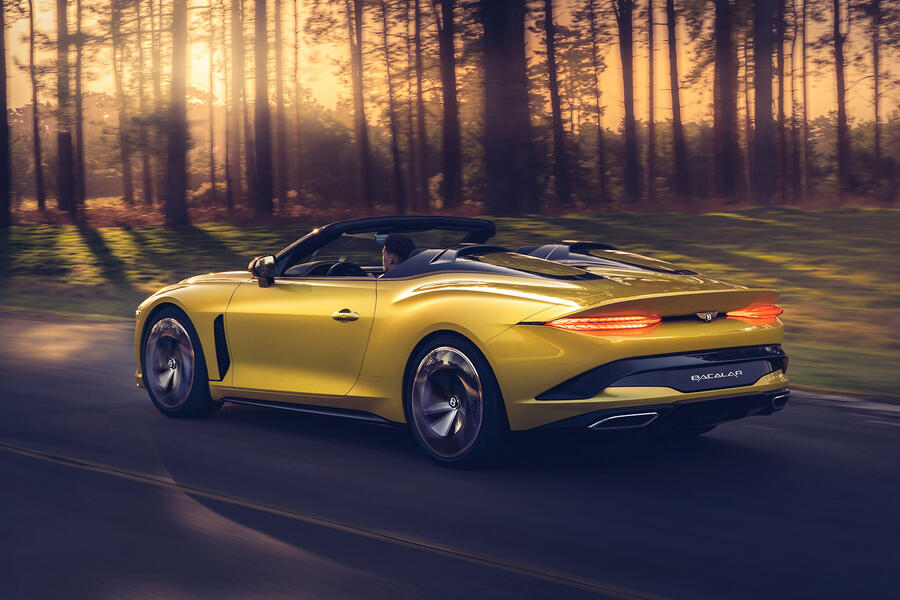 Hannig identifies three pillars of Mulliner: Mulliner Classic, Mulliner Collections and Mulliner Coachbuilt.
Mulliner Classic was kick-started last year with a 1939 Bentley Corniche recreation and news of a continuation series of the Birkin Blower. Mulliner Collections includes models such as the recently revealed Continental GT Mulliner Convertible. And Mulliner Coachbuilt includes the Bacalar, with more to come.