A 2CV for 2020: Driving the Citroen Ami EV on UK roads
A large push button opens the doors from the outside; a pull on fabric releases them from inside. There's a standard sunroof and the glass area is said to occupy almost half of the interior surfacing, so this is a bright, airy not-a-car. From the driver's seat, mounted nearer the back than the front, the windscreen is miles away. Everything that isn't glass, or the exposed steel spaceframe to which the body is mounted or bonded in Citroën's Moroccan factory, is finished in hard plastic.
Try not to think it too much like piloting a portable loo. Half of the side windows flip to hinge upwards, a bit like an old Citroën 2CV's. That's your cooling. There's a one-speed fan, which also has a heat option. Push its button and the noise is like a service station hand-dryer. Stand about three metres from one of those and that's how effective it feels, too, although it does ultimately warm the cabin and keep glass mostly fog-free.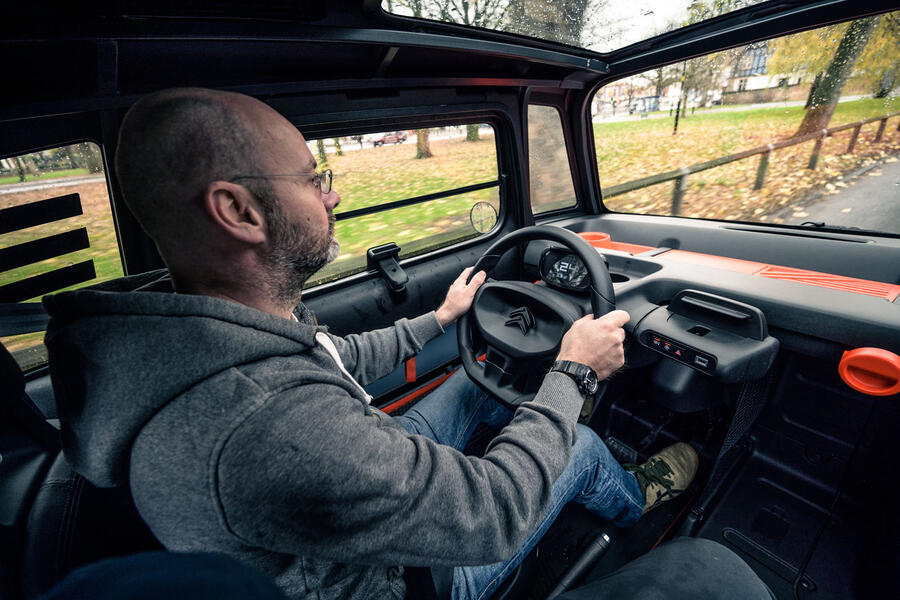 There are flashes of colour inside – in the form of removable holders and cubbies on the dashboard. If you don't like their colour, swapping them for others would take seconds. The rear glass doesn't open. Any luggage is relegated to the footwell of the very spacious passenger side, whose seat is mounted even further rearward and has no adjustment, and a net is meant to stop bags sliding into the pedal box.
The firm driver's seat adjusts fore and aft only and the steering not at all. There's one column stalk, for the indicators and the single wiper, and the headlights are on all the time. The charge cable stows in a cubby behind the passenger door. It has a domestic plug socket and charges in around three hours. There's no faster charging option because, the thinking goes, this is strictly an urban 'mobility solution', as I think the current parlance has it. In other words, it's as much an alternative to a trip on the Tube or bus, cycling, or a scooter, as it is to a regular car.
And as with electric scooters or bicycles, you can buy one outright or hire one. The Ami costs around £6200 to buy, there are lease deals, or you can hire one in Paris via an app from around 25p per minute. If you do, you'll have a vehicle that's quite basic but not without its charms. Anything with four wheels and a kerb weight under 500kg is bound to offer some fun.