BMW iX is brand's new 500bhp electric flagship
Aerodynamic developments, including minimal air ducting within the front bumper, flat underbody panelling, integrated door handles and the tapered glasshouse, contribute to a claimed drag coefficient of 0.25. Buyers will be able to order the iX in both standard and M Sport styling – the latter with a more heavily structured front bumper.
With wheel houses similar in size to the X7, it will offer up to 22-inch aerodynamically optimised rims and 275/40 profile rubber.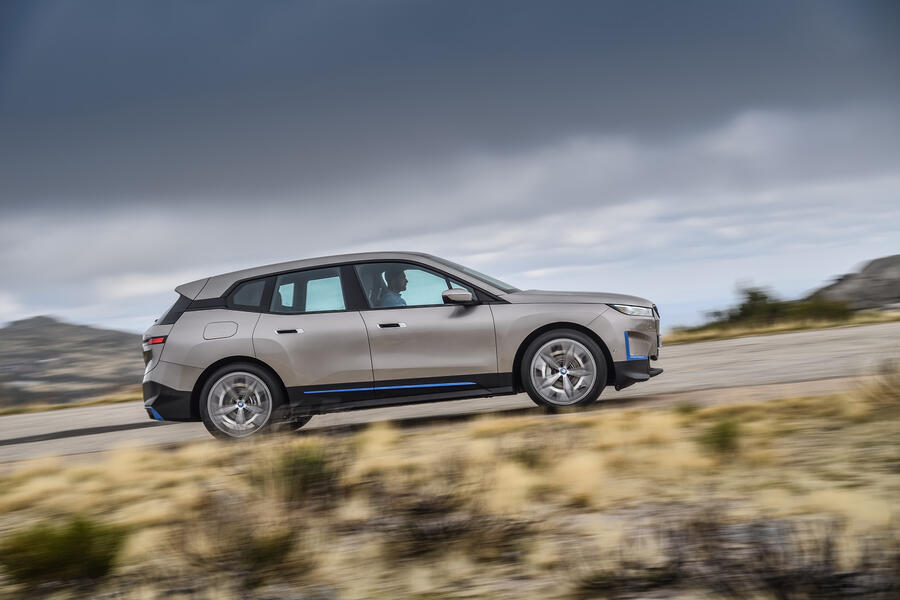 BMW is yet to reveal details of the variants it has planned beyond the range-topping four-wheel-drive twin motor version. The individual outputs of the two electric motors, which retain full power up to their peak revs, remain under wraps for now, though Weber indicated the rear will be the more powerful of the two: "We've engineered the drivetrain to support between 90kW (121bhp) and 300kW (402bhp) per axle, front and rear."
The iX sends power to all four wheels; while the drive split hasn't been specified it is expected to feature a typical rear bias. Top speed is above 124mph. The iX will be offered with different battery options with a "100kWh plus" unit fitted to the range-topping model. With a claimed average power consumption of 21.0kWh per 100km, that model will offer a range of more than 373 miles, compared to 286 miles offered by the iX3's lithium-ion battery. Despite the extensive use of aluminium and carbon fibre, the large battery means the iX weighs what Weber described "as a good 2.5 tons".
The new charging system employed by the iX enables optional DC fast charging at up to 200kW, allowing the battery to be charged from 10 to 80 per cent in under 40 minutes. The standard charger operates at 11kW, which provides the same 10 to 80 per cent charge in 11 hours on a wallbox feed.
Underpinning the new BMW is an aluminium-intensive chassis featuring a double-wishbone (front) and multi-link (rear) suspension, offering active rear-wheel steering.
BMW is readying a comprehensive range of connectivity and sensor functions. "The iX has more computing power for data processing than the newest models in our current line-up," said Weber. Included is over-the-air functionality via 5G and Level 3 autonomous driving technology.