Britain's Best Driver's Car 2020: The final three
Moreover, for the first time in Handling Day history, our top two could only be separated by a tie-breaker. The judges' scorecards had to be referred to a second time, to identify our outright winner on count back as the car that topped the order for the greatest number of individual judges. This contest has never been won by so fine a margin.
And in that top three was our new Britain's Best Affordable Driver's Car champion, the irrepressible Toyota GR Yaris; the effervescent and dramatic 765 LT; and our reigning and defending 2019 BBDC champion, the Ariel Atom 4.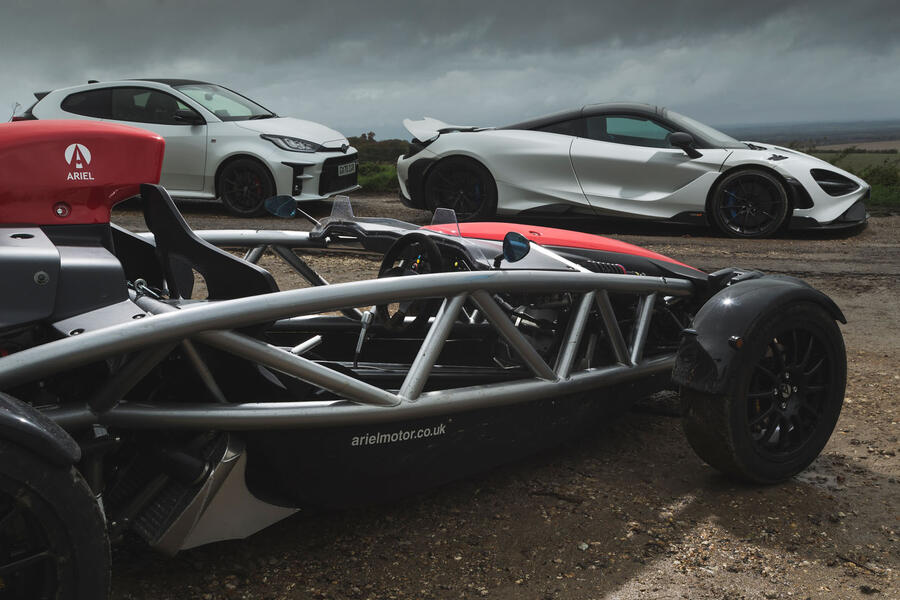 The Yaris wooed the judges with its sheer suitability for soaking autumnal conditions. If there was a weather lottery to be won, it definitely hit the jackpot – although it went on to reveal hidden depths of driver appeal the likes of which haven't been seen in a hot hatchback in a generation.
The Atom and the 765LT, by contrast, both had to overcome the conditions in order to take their places at the sharp end of the order. But how well they managed it, often using similar tools to keep their drivers so engaged, in control and at ease with what they were doing; but also using them to conjure and construct such different brands of dynamic allure.
As Andrew Frankel saw it, the GR Yaris seemed nothing more or less than "the most dynamically capable car ever offered for sale at this kind of money. What is so impressive about the way Toyota went about this car is that they could so easily have created a hot rod but chose not to. It feels so deftly engineered, more grown-up in many ways than all those Evo Mitsubishis in whose footsteps it treads with such confidence. I love the fact that it rides so well on the road, that the power isn't just slopped onto your plate with the giant ladle, yet that preposterous point-to-point pace you hope and expect to find in such a car is there in full."
For Frankel's money, if the little Toyota wanted for anything, it was only a little on-track throttlesteerability. Simon Davis also recognised a certain "lack of expressive adjustability" about its track handling but loved that the car "demanded to be driven through the rain just as hard as if it were dry". James Disdale suggested that it was "perhaps not one of the greatest hot hatchbacks for outright feel and rich rewards, although it never fails to raise a smile". I, for one, loved the way it mixed on-throttle stability with off-throttle handling adjustment, allowing you to back it into bends and coax some attitude out of the car on a trailing throttle, knowing that the driveline was ready to balance it all out again when you opened the taps back up.