Buy them before we do: second-hand picks for 16 October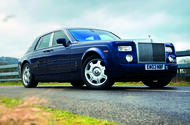 The Rolls-Royce Phantom VII lacks some of the glamour of the latest Ghost, but can be picked up for just £60K
Last week, Rolls-Royce revealed the Extended version of its new Ghost saloon, which has reclining rear seats with 170mm more leg room and a champagne cooler with an 11deg C setting for vintage bottles or 6deg C for newer tipples.
Classy, but the stretched Ghost will command upwards of £250,000, at which point the mind wanders to where your money might be better spent. Well, what if we told you that you can own a modern, long-wheelbase Rolls-Royce for little more than a quarter of that?
Yes, the once-unfathomably luxurious Phantom VII has started its transition from the realm of fantasy to that of feasibility for the luxury car buyer on a budget.
That's all relative – it's still a Rolls-Royce, after all – and at £60,000, this 2004 car is among the more affordable examples for sale, but that's hardly bad value when you consider what you're getting. Your Moët will have to stay at home, but there's 100mm more space between the axles than the Ghost Extended, more wood inside than the New Forest, suicide doors and the Phantom's party piece: that BMW-derived 6.75-litre V12.
There's no chance this 16-year-old car will feel dated once on the move, with its 435bhp and 531lb ft enough to whisk you from 0-62mph in less than six seconds, while the cosseting air suspension irons out even the harshest broken Tarmac.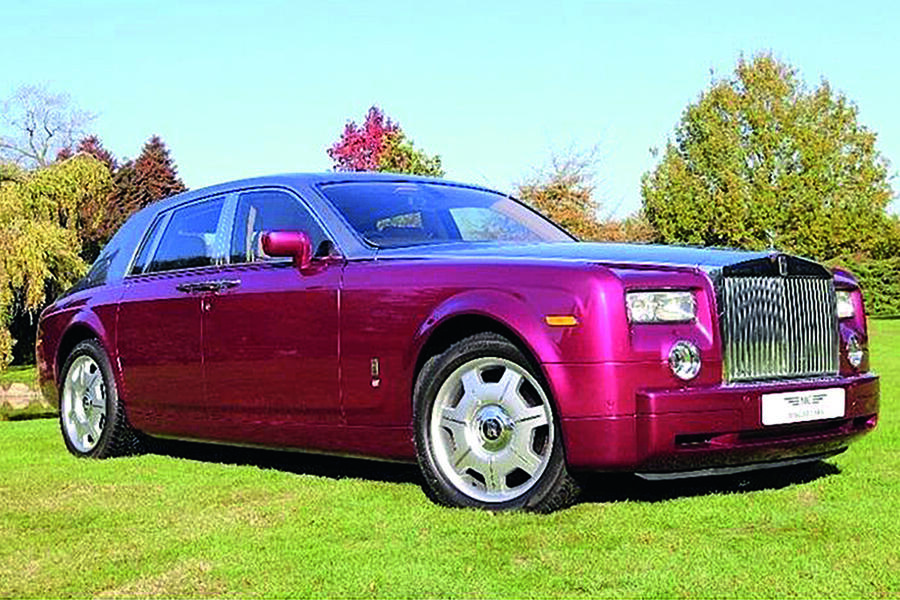 The car's previous owners have clearly had their money's worth out of it, clocking up an impressive 110,000 miles between the seven (yes, seven) of them. But the deep burgundy carpets bear no sign of fading and the leather looks remarkably fresh. Happily, even the Phantom's umbrellas can still be found in their secret in-door hideaway.
The bold silver over red over beige colour scheme won't be to all tastes, and it serves as a reminder that limitless showroom personalisation options don't always result in stunning automotive creations – but rather that than the matt black wrap that more commonly adorns Phantoms of this vintage. And anyway, you don't buy a car like this to blend in, so why not go ahead and indulge your inner oligarch?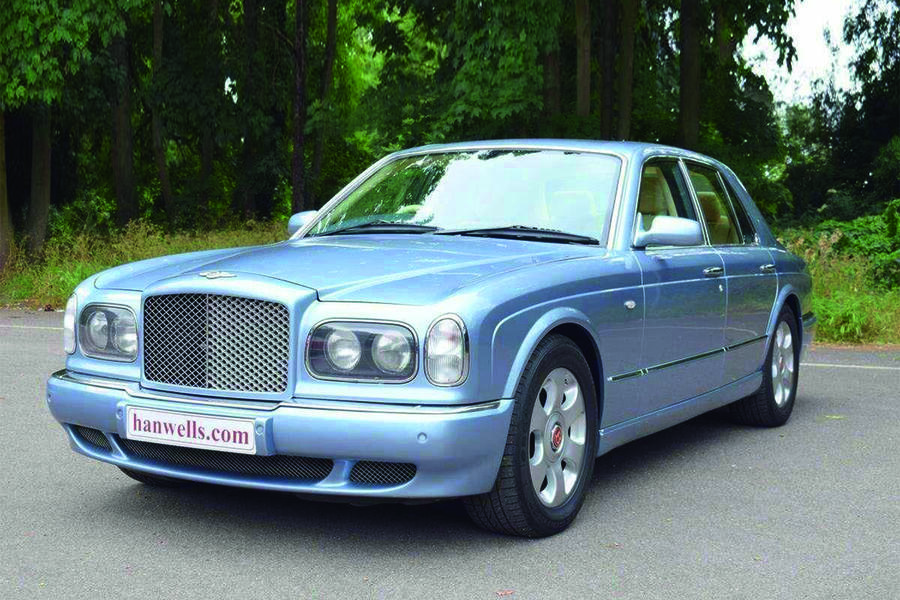 Bentley Arnage, £27,999: The Bentley Arnage offers a class-leading blend of dynamism and refinement for the business mogul who prefers to pilot their own luxury saloon. This is the 'entry-level' model but it still packs a 400bhp punch thanks to a twin-turbo 6.75-litre V8.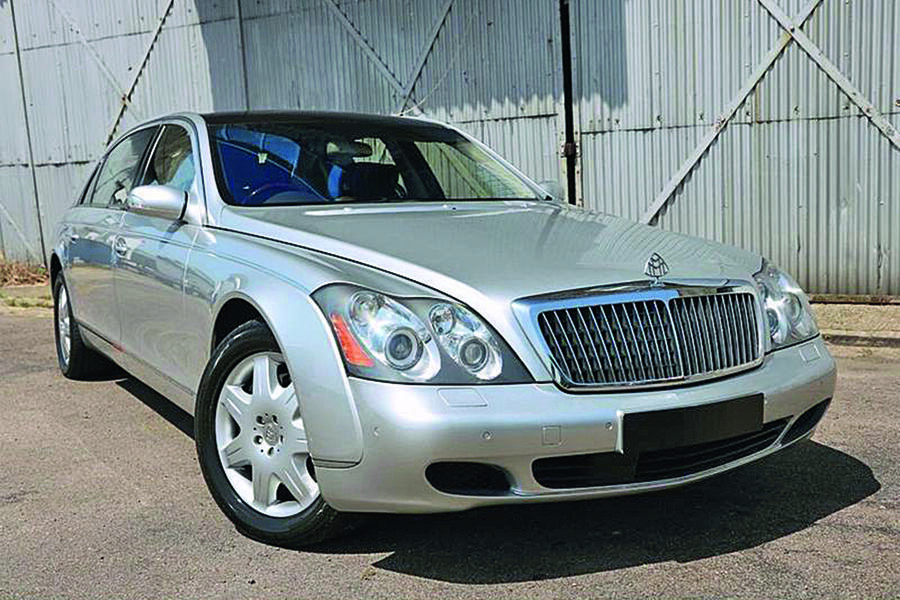 Maybach 62, £59,990: Mercedes' S-Class-derived answer to the Phantom has failed to cultivate the same sort of appeal as its BMW-engined British rival. But it's hard to argue with the attraction of a 550bhp V12 and panoramic sunroof – the latter a £13,000 option from new.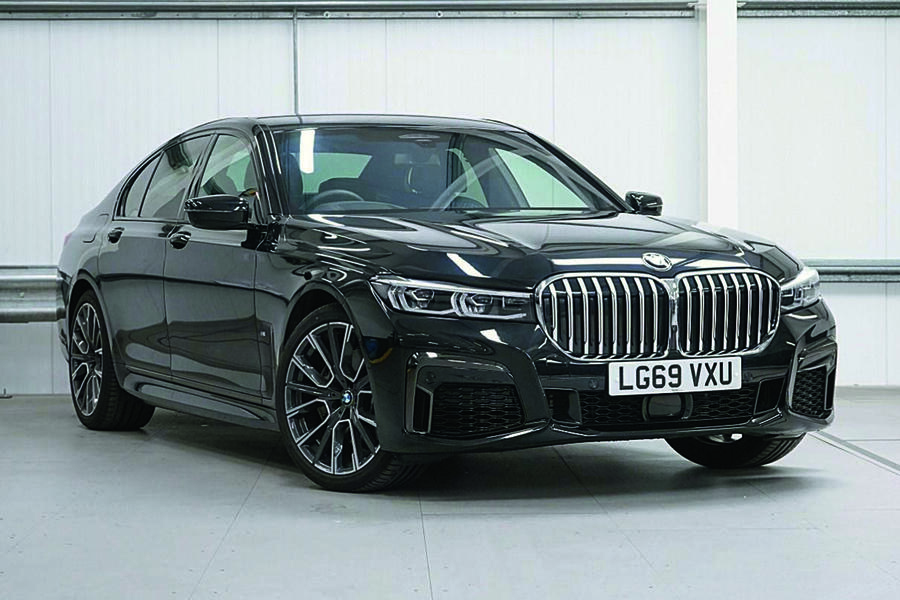 BMW 7 Series, £49,500: This 5000-mile 2019 740i is insane value at £49,500 – roughly £25,000 less than new. Yes, there's the grille stigma to overcome, but you can't see it from inside, and with a whole host of comfort functions fitted in the rear, it's rather a nice place to be.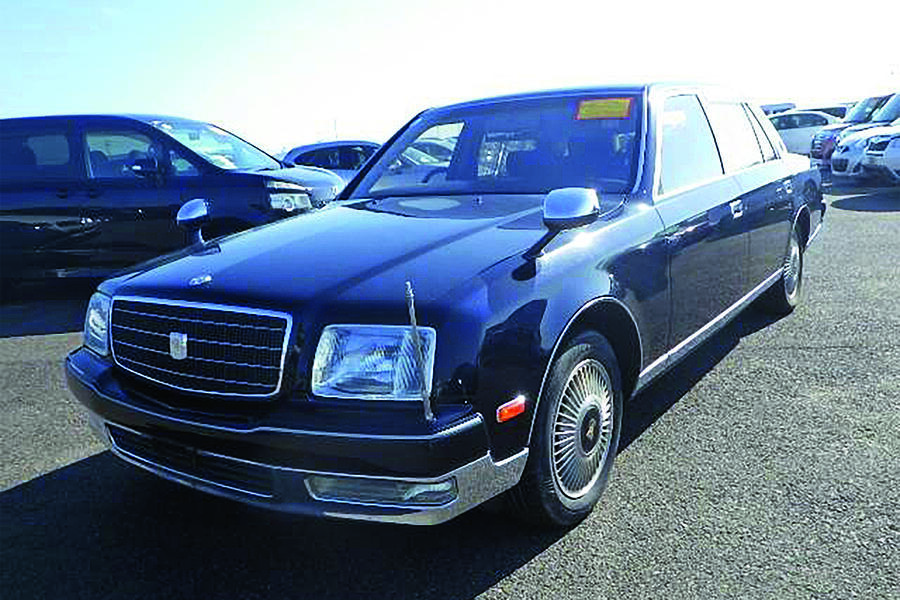 Toyota Century, £8995: In the UK the Toyota Century is rarer, cheaper and just all-round cooler than any British or German rival. Only £8995 for an imported example with massaging rear seats and electrically opening doors? That's bargain-basement opulence right there.
Auction watch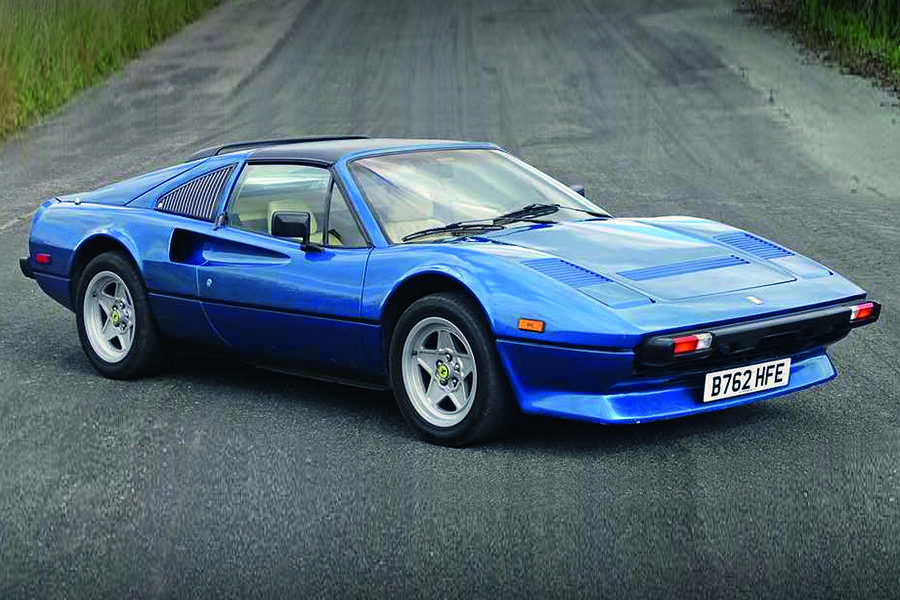 Ferrari 308 GTS QV: Alongside the Mondial and 308 Dino, the pretty but otherwise relatively tame 308 GTS occupies that small section of the classic Ferrari market that remains open to mere mortals. This 1985 car stands out with its Chiaro Blue paintwork and Crema leather upholstery, but still mustered just £40,500 – around a 60th of the price of a same-aged 288 GTO. And that's despite some celebrity provenance: it was apparently once owned by American rock legend Iggy Pop, although it's unconfirmed whether he preferred driving it or being The Passenger.
Future classic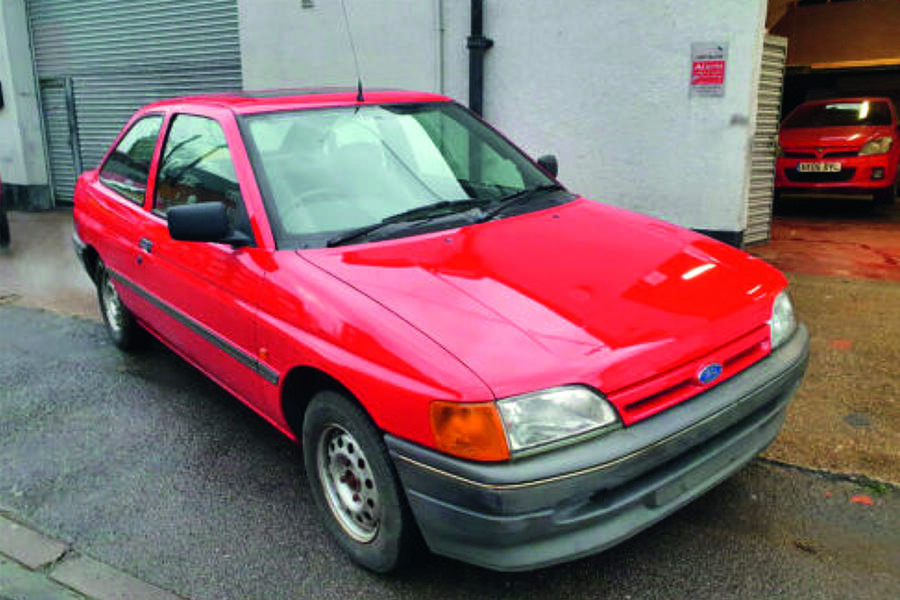 Ford Escort 1.3, £3000 (est): We're no longer surprised when the earliest and most desirable versions of the Ford Escort change hands for tens of thousands of pounds, but it's only now that the final, fifthgeneration car has started to generate interest in the collector sphere. It's unclear how this never-registered 1991 car has managed to cover just 414 miles in 29 years, but a reserve price in excess of the £2300 maximum bid serves as proof that even the most unremarkable runaround could one day be where the smart money lies. Time to buy an old Fiesta, perhaps?
Clash of the classifieds
Brief: Find me a modern-day Matra Rancho for £10,000.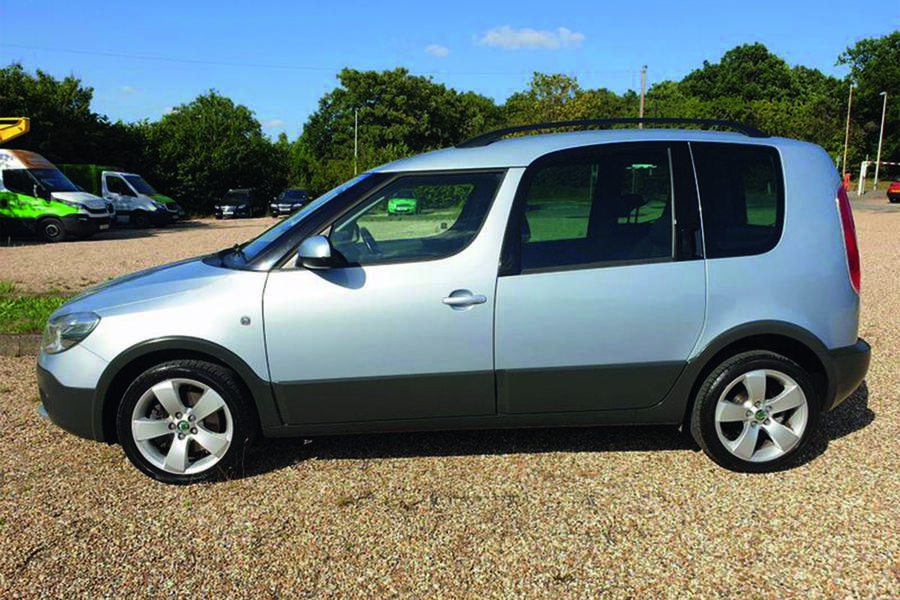 Skoda Roomster Scout, £5650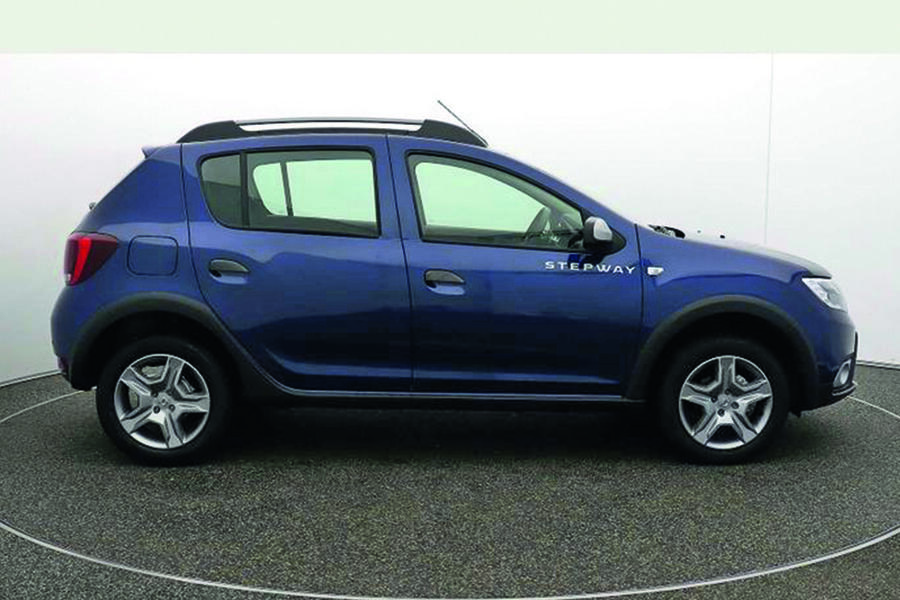 Dacia Sandero Stepway, £9200
Max Adams: A retro Rancho? Feast your eyes on my 2010 Skoda Roomster Scout, because I believe it's a Czech reincarnation of that '70s French oddity. Black plastic exterior cladding? Check. Huge rear windows? Check. Raised ride height, roof bars and front-wheel drive only? All present and correct. I've covered the list off so comprehensively I don't know why you're bothering, Felix, but what have you found?
Felix Page: Not only have I found a rugged runaround with almost precisely the same Matra-aping attributes as your Roomster, but I've also adhered to James's 'modern' criteria. My no-frills Dacia Sandero Stepway left the showroom just over a year ago and has covered barely 5000 miles since. So yes, it's dangerously close to our £10k budget, but it offers smartphone compatibility and parking sensors. Pretty swish, no?
MA: Check my specs because I also have rear parking sensors and a Bluetooth connection. And what's this about being 'modern'? You do realise the Sandero is merely a reheated '90s Clio, don't you? Mine is a fresher design and is actually innovative. Did you know the Roomster's rear seats are higher than the fronts to give kids a better view? Just like the Rancho.
FP: Homer Simpson had a similar idea with his ill-conceived concept car. The Sandero doesn't need such gimmicks to cultivate appeal, hence why it remains one of the UK's most popular cars while your Roomster was consigned to the history books years ago. And the 1990s Renault link is a happy coincidence; as I'm sure you know, the short-lived Rancho was succeeded by none other than the fantastic Espace MPV.
MA: I don't believe we were asked for a commercially successful car, and as I've described in detail, mine is closer in spirit to the old Rancho than yours. But I'm not judging this, so it's over to you, James…
Verdict: I'll take that Rancho-style Roomster, thank you.
READ MORE
New Rolls-Royce Ghost is firm's most advanced model 
Rolls-Royce Ghost 2020 review 
Rolls-Royce: luxury will always take priority over technology