Cheap thrills: Britain's Best Affordable Drivers Car 2020
Yes, the ride is unyielding at low speed and some of Exmoor's more testing stretches result in the odd hop, skip and jump, while the powerful brake upgrade lacks the progression of the standard stoppers. But the basic Fiesta's package remains as compelling as ever. "I like it a lot," says editor-at-large Matt Prior. "It's a fun factory. And actually very capable while it's at it." Exactly.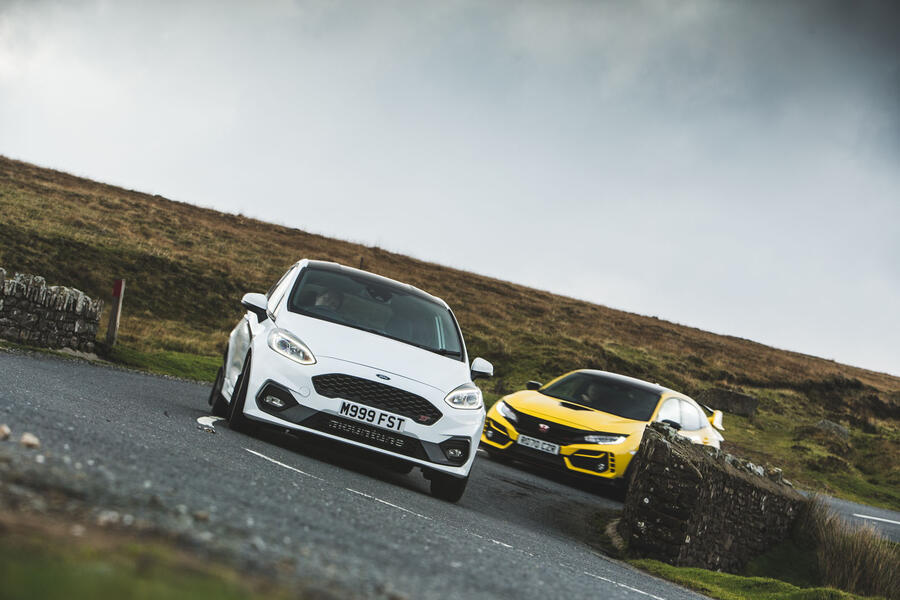 If the Fiesta is the rabble-rousing teenager, then the Golf is the grownup in the room, if history is anything to go by. Yet it could be that this heritage is starting to weigh heavily on the VW's shoulders, because like many approaching their half-century, it appears to be going through something of a mid-life crisis. At a glance, all the usual subtle but significant GTI calling cards are present and correct. Powerful turbocharged engine? Check. Lowered and stiffened suspension? Check. Red stripe on the front grille? Check. Checked seat trim? Erm, check. And yet something has changed.
Senior contributing writer Andrew Frankel hits the nail on the head: "I don't understand what they're trying to achieve with this car. It had a unique formula so why change it? It's like Apple deciding it really needs to be a bit more like Samsung." Essentially, it feels like the Golf is trying too hard to keep up with the whippersnappers and has abandoned its hard-won reputation as cultured all-rounder in the process.
Make no mistake: the Golf is a fantastically quick and capable car and it picks apart these helicoidal Devon roads with clinical efficiency and real precision. It's clearly quicker point to point than its immediate forebear, the brilliant front-end grip, tremendous traction and cast-iron body control helping to keep it suckered to the road. The engine is a corker, too, pulling with real deep-chested muscle from nothing before zinging happily to the redline.
What's missing is the engagement and back-and-forth banter to go with its harder-edged character. The steering is too light and not chatty enough, and while you can disable the ESP (although you'll need Crystal Maze levels of problem-solving skills to do so), the VW isn't particularly expressive, preferring to play it straight. Worse still, knock the dampers back into Comfort mode and the brittle edge to the ride remains. It's still the one you'd take for the long haul home, but the old easy-going nature has evaporated. "A good hot hatch," says road tester Simon Davis, "but not a great GTI."