First drive: Skoda Slavia speedster concept
As is the norm with Skoda's Azubi concepts, the Slavia draws its reserves from a powertrain available unaltered from the standard car, in this case a 1.5-litre, 148bhp four-cylinder turbocharged petrol engine that sends its reserves to the front wheels by way of a seven-speed dual-clutch automatic gearbox.
Were such a car to ever make it to production, you might expect it to adopt a motor more befitting its sporting image – perhaps a variant of the 2.0-litre turbocharged EA888 that propels the Octavia vRS – and a six-speed manual gearbox in the vein of its now-defunct (and much more potent) Porsche 911 Speedster cousin, which was produced on a limited scale last year. 
Such as it is, the Slavia's 1.5-litre unit felt more than adequate around the Millbrook Proving Ground's Alpine course, not least because the lack of roof and onset of inclement weather made spirited driving a rather uncomfortable experience. The overbearing exhaust note, too – while well-suited to this whimsical experiment and not unattractive at idle – serves largely to emphasise the powertrain's economy-oriented tune, dropping to a distant hum as the gearbox offers up its highest ratios at a cruise.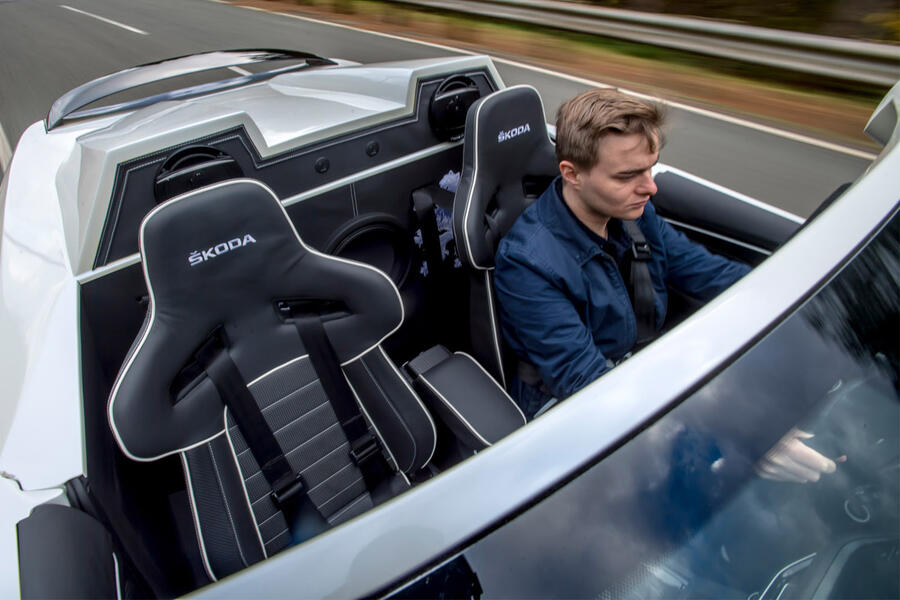 Dynamic behaviour, although hardly put under the microscope on this brief 40mph escapade, seemed remarkably similar to the base car, rarely numb and keen to respond to snap changes in direction, suggesting that all the structural reinforcements have served their purpose.
The more perceptible jolts over surface imperfections can likely be attributed to the 20in wheels, but the caveat remains that these concepts aren't developed to offer production-spec dynamics. The Octavia vRS-derived braking system, while noticeably sharper than that of the standard car, was noisy enough in its operation to discourage emergency stops. 
Are we looking at an embryonic prototype for a future Skoda sports car? Not likely, we're afraid. Way back in 2011, the brand ruled out ever putting such a model into production, such is its focus on big-selling, family-friendly value cars, while noises emanating from Volkswagen Group headquarters suggest that if any brand is to be given the green light to develop new performance-oriented products, it's Cupra.
It has also been confirmed that the next-generation Skoda Fabia won't receive a vRS range-topper in a further indication of the brand's shifting priorities. But, hey, that doesn't stop its apprentices expressing themselves. 
READ MORE
All-new Skoda Fabia due in 2021 with new platform, improved tech 
New Skoda Octavia e-Tec features brand's first mild-hybrid engine 
Skoda patents LED seatbelt buckle to improve usability at night