First ride: 2021 Audi E-tron GT prototype
All this means the E-Tron GT could be one of the most aurally active EVs on the market. At a standstill, even Euro-spec cars emit a harmonised low frequency hum not dissimilar from that of an idling straight-six. From the rear speaker, a quiet high frequency whine that's more reminiscent of one of those ultrasonic devices used to keep cats off lawns.
The interior sounds are more important, however. "Its a core part of the car's identity, and a sporting car in particular needs to satisfy the sense of sound" Gselle says. I'm inclined to agree – silence is fine in a mainstream EV but for the best sports cars (hello Porsche) engine sound is easily as defining a characteristic as on-limit balance and steering feel. Transitioning that to battery power requires an entirely fresh approach.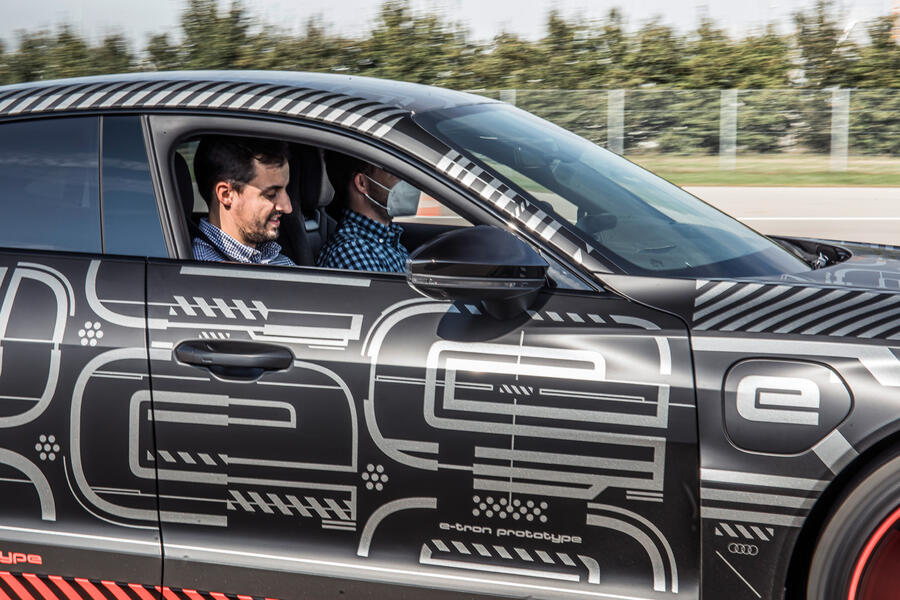 Gselle starts his demo with me in the passenger seat in Efficiency mode, the quietest. Even here it's distinctive – a multi-layered sound that rises in pitch with acceleration. Comfort mode introduces the rear door speakers, bringing a slightly more evocative and noticeable low frequency tone. Dynamic ramps it up further, with a variety of frequencies directly related to throttle input helping to paint more of a sensory picture as the numbers whizz higher on the speedometer.
It's hardly as spine tingling as the R8's V10 wail or even the RS3's five-pot melody. Not even close. But it helps mitigate the one dimensional feel common with many fast EVs. And there's no doubt in my mind that this is among the fastest. Sadly, engineers refused to tell us which drivetrain is underneath this pre-series prototype (the dual-motor E-Tron GT concept promised 582bhp, but the fastest is expected to be a triple-motor system). But having driven the Taycan Turbo, it felt pretty much as accelerative to me.
What we do know for sure, however, is that alongside the 'standard' E-Tron GT there will also be an E-Tron RS model, as we've reported before. Audi has confirmed this will launch alongside the regular model, presumably so the top-flight, highest-margin car can start churning profits as soon as possible. 
Oddly, unlike the Taycan, the GT's potency seemed to cause some traction issues on our short loop. Gselle carried too much speed into one bend resulting in catastrophic understeer, while full bore corner exists elicited similar tyre protestation. He tells us that this engineering prototype isn't quite finished on the dynamic front, and judging by the apparent complete lack of stability system intervention we'd agree.