Ford Ka endurance racing: we try the UK's hot new motorsport
There's no wondering about where you stand, because you're in near-identical machinery; the bloke ahead is going faster because he's doing it better. Chances to measure your driving ability like this, and to learn so affordably, really are few and far between.
The racing was fair but intense, particularly because it's so important to maintain momentum. I found myself in some highly exciting situations, including two bits of mid-bend contact and heading into that fast fourth-gear first corner three abreast – where I was second best at not chickening out. It was non-stop and, to be honest, for 80 minutes on a fairly hot day, pretty exhausting.
When I was called in, we were running in a respectable 11th position, but I'd also missed a one-minute stop-go penalty, forcing Ben to take it; I felt dreadful. He then got his own minute-long penalty for exceeding track limits (the Ka's playfulness and Oulton's speed make this such an easy infringement) and so our genuine challenge for a podium began to unravel.
We ended the race 13th, but I cared very little, because it was one of the most enjoyable days of driving I've ever experienced. I'll be back out at Brands Hatch later this month.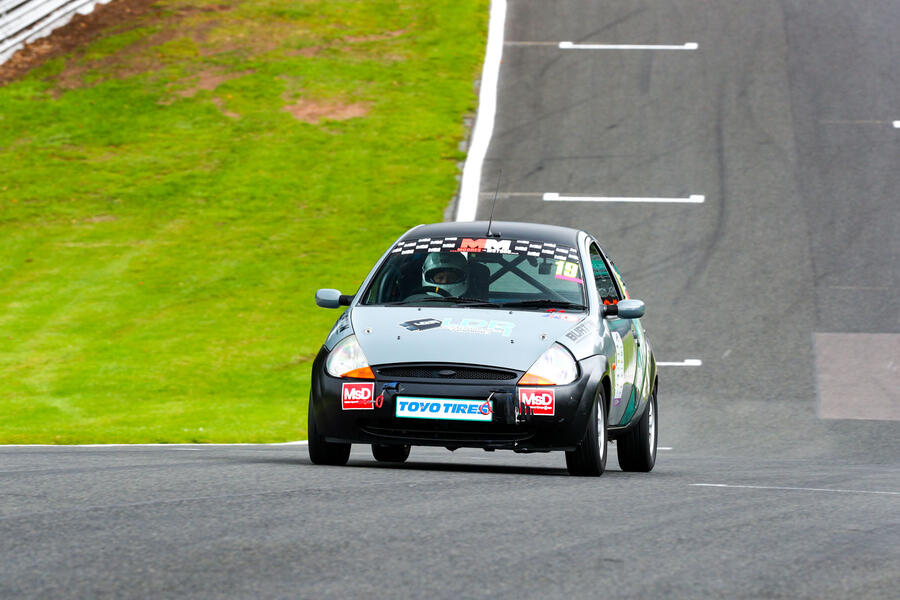 The car and the upgrades
Only first-generation Ford Kas produced from 2002-2008 are eligible for EnduroKa; they must be fitted with a 1.3-litre Duratec engine making either 59bhp or 69bhp and have any optional ABS disconnected. There's a minimum weight of 950kg, including the driver. We found 97 suitable cars in the classifieds for less than £1000. One 2019 Oulton podium finisher cost £75.
The mandated list of upgrades include 13in wheels with Toyo Proxes tyres, a bolt-in roll cage and uprated springs, dampers, bushings and front brake pads.
All the Ka-specific parts can be bought from recommended suppliers for less than £3000, although you'll also need a race seat, harnesses, fire extinguisher, cut-off switches and a rear rain light. Go to enduroka.co.uk for full details.
Other bargain one-make series