From Humber Snipe to Rover 75: a quick walk through 5500 Autocar road tests
Even in 1974, this Rover P6 was a car with 17in wheels, disc brakes all round and inertia-reel seatbelts. It also had a de Dion rear axle and worm-and-roller-gear steering. And yet it did not escape me that it still managed 0-60mph more quickly than the Rover 75 Tourer we tested more than a quarter century later (11.4sec).
There can be no argument about the subject of Autocar road test number 1500, clearly numbered as it was in our issue of 12 June 1953 (hooray!). Come on down, then, the Wolseley 4/44. This was one of the first post-war, middle-market saloon cars built with a monocoque chassis; our testers called it 'integral construction' at the time. It had a live rear axle, drum brakes and a slightly weedy 1250cc engine making only 46bhp – in a car weighing 1128kg as tested. (What are we always told about old saloon cars being really light again?) Needless to say, it wasn't quick: 0-60mph took 32.6sec.
Even so, the test jury rated it. "From the first moment of acquaintance," the story opens, "an exceptional liking was formed […] for a car of very decided merit. One with more than a touch of quality in its road behaviour and appointments, a balance about its easy progress, and nice handling that raises it above the common run of family cars." We didn't give cars star ratings at the time, but it seems reasonable to assume that this Wolseley's would have been more than averagely glittering if only it had received one.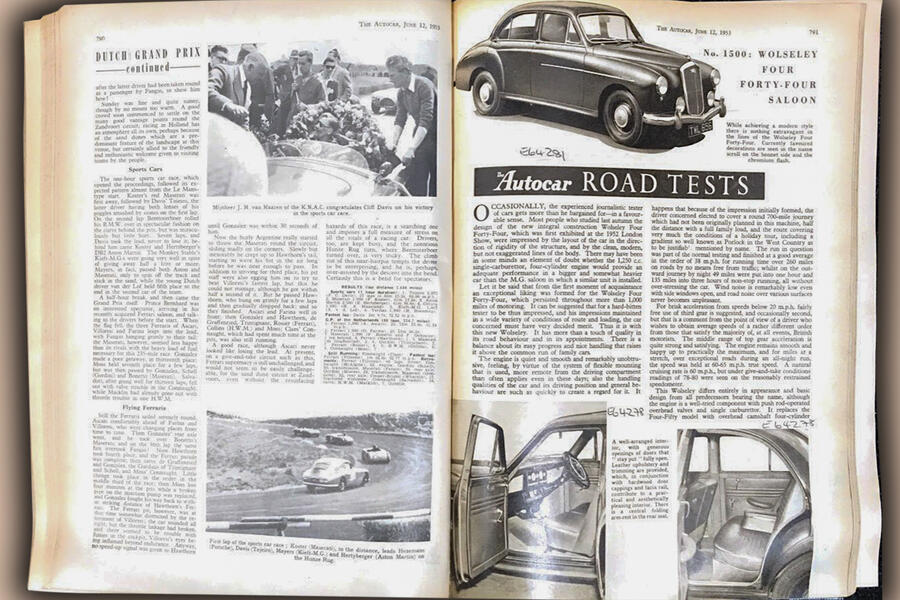 Going back in time still further means jumping over the Second World War, during which testing was suspended, and then groping amidst more numbering murkiness. Back in the 1920s and 1930s, the magazine's editors were quick to drop 'The Road Test' completely when there was an important motor race or show to cover; but in other issues, as many as two tests of new cars, and two more of used ones, might appear. Meanwhile, whether any particular test was numbered or not seems to be mostly by luck of the draw.
There are just enough numbered ones to suggest, however, that road test 500 happened around the turn of 1930, about when we were appraising the handsome Humber Snipe (21 November 1930), so maybe that was the one. This 3.5-litre, six-cylinder, 1524kg, 24-horsepower saloon, like the Wolseley, was certainly a favourite of the road test team because it seemed outstandingly easy to drive for its time; a quality we reward richly in family saloons to this day.