Highland Rover: Celebrating Hogmanay in a Land Rover Defender
We reach the banks of the River Spey and engage wading mode before taking a dip, sensors pinging like Red October against the rising waterline. Micklethwait's live axles shoogle over the plump, round cobbles, but our independent suspension maintains comfort. We've almost twice the wading capability, at 900mm, so a deeper pool brings nothing more alarming than the saft swinkle of peaty water against the doors.
After we've paidl't in the burn, it's out, up and into a patch of ancient, prickly bushes that bear juniper, the essential gin botanical. After three years of ripening, the cones (not the berries) turn purple and come away willingly. Biting one, the familiar gin flavour bursts through and ambushes my tongue, where it camps until dinner.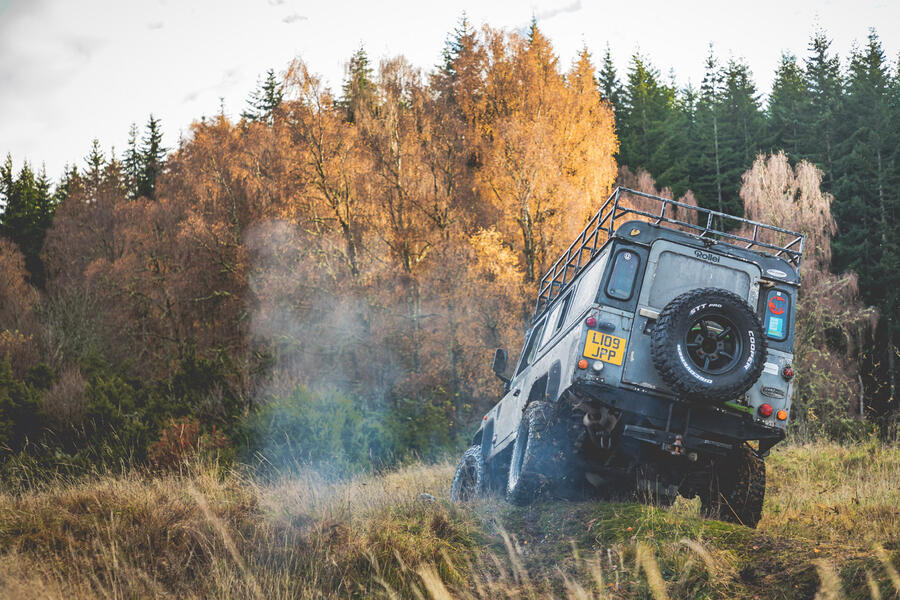 We repair to Inshriach's remodelled chicken shed, now home to a shop, piano lounge, bar and distillery. Micklethwait explains how juniper, rosehip, Douglas fir and spring water, all sourced on site, are used to make Inshriach Gin in 43% and 'Navy Strength' 57% ABVs. We wait until later to weet oor thrapples with a right guid willie-waught. The aromatic, peppery potion goes down a treat. The sun is long gone when we leave this eccentric, enchanting spot, submerging again into Scotch-broth fog. A trudge down the A9 becomes a crawling slog over what should have been an entertaining stretch of the 'Heart 200' touring route through the Sma' Glen.
No matter; we soon reach the village of Comrie, where local office holders David Robertson and Hamish Reid enlighten us about a local Hogmanay ritual known as the Flambeaux. Its origins are unclear: both Celtic culture and immigrant French weavers are credited with its emergence in the 1800s.
In mid-November, 12 birch poles of 10ft 6in (the length of witch-burning stakes) are each wrapped in 20 or more hessian sacks, then steeped in paraffin until being lit at midnight on Hogmanay in the main square. Led by the Comrie Pipe Band, the Flambeaux are paraded around the village then launched off Dalginross Bridge into the inky River Earn in a muckle flaucht of sparks. And thus bad spirits are banished – "or at least sent down river to Crieff", adds Reid.