History of the Peugeot 205 GTi – picture special
Other potent Peugeot 205s which gained brownie points among petrolheads included the underrated 205 XS built from 1986 to 1992 and the rare ultra-lightweight 205 Rallye. With almost all luxury items and soundproofing stripped and only the bare essential electrics left, the Rallye's kerb weight was down to 795kg, with a 1.4-litre 75bhp engine propelling the car to 60mph in 11.3sec.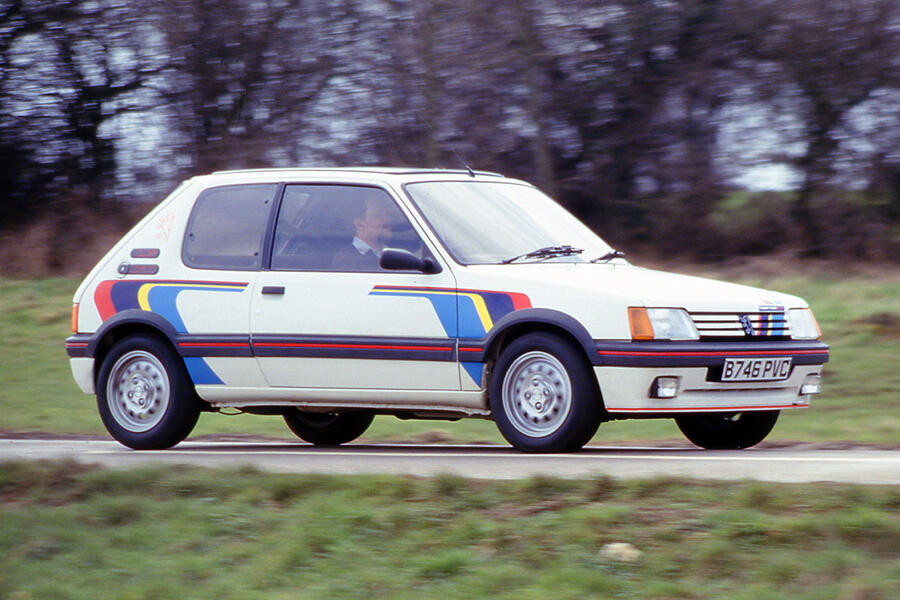 In 1992, Peugeot UK revealed a special limited edition of the 205 GTi – badged the 1FM – to celebrate BBC Radio 1's 25th birthday. Only available in black with bespoke 'Radio1FM' badging and decals, grey alloy wheels and individual brass-plate numbering marking the build number, only 25 examples were made. 
When production finally ground to a halt, Peugeot had sold 5.2 million examples of the 205. The 106 GTI and 306 GTI would go on to find a new generation of fans, but critics agreed that neither could replace the 205 GTI as the best hot hatch to wear a Peugeot badge. The 306 GTI-6, released in 1996, came close with the combination of 167bhp 2.0-litre engine and close-ratio six-speed gearbox. The 306 Rallye that followed it shaved 52kg from its kerb weight, though was limited to just 500 cars.
1998 saw the 205's direct replacement wear GTI badges for the first time, but the 206 GTI was largely considered a disappointment on account of its lack of handling panache. The 207 GTI was better, but it wasn't sharp enough to hold court with the Renaultsport Clios and Vauxhall Corsa VXRs that were fighting it out at the top of the class at the time.
Peugeot would celebrate 30 years of the 205 GTI in 2014 with a limited-edition version of its latest-generation supermini. The 208 GTI was unveiled at the Goodwood Festival of Speed that summer, and was limited to just 100 UK cars. It featured a 1.6-litre THP petrol engine that produced 205bhp and 221lb ft, while its Torsen differential was taken from the RCZ R sports car. Lowered suspension, widened front and rear track and larger 18-inch alloys completed the package, but what it clawed back in on-the-limit performance it lost in daily usability.