In 2020, We Charged toward Electric Vehicles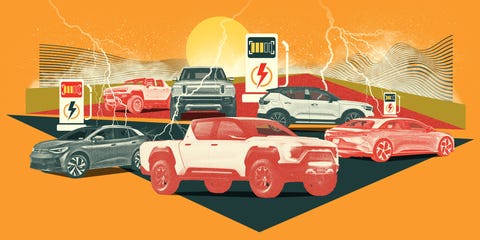 Illustration by Ryan OlbryshCar and Driver
We were still getting over the bizarre reveal of the polarizing 2022 Tesla Cybertruck when 2020 crept up on us like a deranged clown at a birthday party that at first seems okay but then gets weirder and weirder as the day progresses. During the cavalcade of horrors that was 2020, the electrified march of progress continued, albeit a bit slowed by the global pandemic. Read on for some of the highlights of EV development in this crazy year:
Tesla Model Y Actually ahead of Schedule
While 2020 demolished timetables for unveilings and production, automakers new and old still managed to surprise us. First Tesla announced that it began production of the Model Y early. As a company known for its ever slipping delivery targets, this was big deal as the company started making an actual profit and almost acting like a traditional automaker.
Lucid Air Lets Fly a Challenge in the Range Wars
Ford Mustang Mach-E Is Much Hyped, Almost Here
Rivian R1S/R1T Delayed, but Check Out This Delivery Van?
Rivian had to delay production of its electric R1T truck and R1S SUV, but showed the world the delivery van it built in partnership with Amazon, which should keep it financially secure for years to come. It also lent prototypes of the R1T to the motorcycle-adventure series Long Way Up starring Ewan McGregor securing a ton of screen time in front of an audience that might not even know the company exists.
GM Goes for EV SUVs with GMC Hummer EV, Cadillac Lyriq
Not to be outdone by Ford, GM brought back the Hummer as an EV: it's the gigantic gas guzzler from two decades back, redone in green. Or at least greenish; it takes a lot of raw materials to build something that large. The automaker also accelerated its electrification timeline, promising 30 EVs by 2025 via the bold Ultium battery platform it revealed earlier this year. That includes the Lyriq luxury electric SUV from Cadillac and a mystery electric truck it showed off during a news conference. Then of course Chevy has a new Bolt EV and Bolt EUV coming.
Honda e Not Coming Here, Sorry
The Mercedes EQS and Other EQs
The Mercedes-Benz EV stable grew a bit this year with the EQS being teased and expected to show up next year to replace the delayed EQC. The automaker intends to launch four new EVs on the EVA platform including the EQE and EQE SUV and the company intends to throw a battery in everything from the A-class to the S-class. Plus, were expecting an electric Maybach and G-Wagen. Oh, and expect an AMG EQS with 600 hp in 2022.
VW ID.4 Will Get Here Eventually
Volkswagen's MEB platform is finally yielding results. The ID.3 has been launched in Europe and the ID.4 electric SUV destined for the U.S. market was unveiled. It was originally expected here by the end of the year, but like most things in the year of COVID-19, it's been pushed, probably to January.
Volvo XC40 Recharge, Polestar 2 from Sweden
The Polestar 2 went into production and impressed us while the slightly less exciting (but based on the same platform) Volvo XC40 Recharge (pictured) gave the Swedish automaker its own EV to share with the world. The most exciting news out of Sweden is that the Polestar Precept concept will go into production and be available at some point in the future in the U.S.
Hyundai's e-GMP Platform
Hyundai and Kia announced a dedicated EV platform with the unfortunate name E-GMP. It'll power 23 global vehicles by 2025. The first of these vehicles will appear in 2021, while the companies plan to continue to produce the Kona Electric and Niro EV.
A Toyota EV Is Finally on the Way Here
No Nikola Badger After All . . .
The most 2020 of all the EV news was the Nikola Badger electric pickup. After announcing it in February and taking pre-orders, the startup known more for fuel-cell semis ended up canceling the truck in November after allegations of investor fraud forced the CEO and founder to resign and the company's deal with GM to be scaled back. Oh Badger, we hardly knew ye.
. . . But Bollinger and Fisker Seem on Track
BMW iX3 Will Be 1 of 25 EVs
BMW revealed that it will offer electric versions of the X1 and 5-series as part of its push to get 25 EVs on the road by 2023. By the end of 2021, the i3, i4, iX3, and iNext will be out.
Battery Day, and the Endless Promise of Solid-State Batteries
We also got some welcome news about the batteries powering these machines. Tesla's Battery Day event included news of a $25,000 EV in three years' time, and a whole slew of companies including Samsung and Toyota, announced they were close to cracking the solid-state-battery nut. Companies have been talking about figuring out solid-state batteries for years, so it's probably best not to get our hopes up.
EVs' Prices May Drop to Internal-Combustion Levels
But we should be excited about a BloombergNEF report that by 2023, average battery prices will hit $101 per kWh, down from the current average price of $137 per kWh. The $100-per-kWh mark is the point at which experts say the cost of an EV will be the same as a gasoline-powered car. So in 2023, it's possible electric vehicles will be priced the same as their ICE counterparts. If there are still federal tax incentives, they'll actually be cheaper.
Let's Just Start 2021 Now, Shall We?
So, even in this weird year, EVs made an impact in a way they hadn't in the years prior. Even the more traditional automakers are not only talking about electric vehicles but bringing them to market, and bold rollout plans seem to be on track. In the end, 2020, with all its flaws, was a good year for electrification, and 2021 should be better—even if we still won't get the Honda e in the United States.
This content is created and maintained by a third party, and imported onto this page to help users provide their email addresses. You may be able to find more information about this and similar content at piano.io