Jaguar's 1900bhp virtual racer previews future road car direction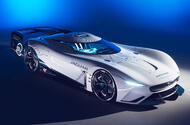 Radical Vision Gran Turismo SV concept uses advanced technology and could share DNA with real-world models
Jaguar has revealed a new 1900bhp electric endurance racer concept, displaying themes that are likely to affect production models of the future, such as the successor to the F-Type.
Although the Vision Gran Turismo SV was created for the hugely popular Gran Turismo video game (it has 83 million users worldwide), Jaguar has underscored its importance by building a full-scale model to display around the world.
Other manufacturers have previously designed cars for Gran Turismo (Bugatti, Maserati, Peugeot and Jaguar itself among them), but what's significant here is that the firm has gone much further, creating a 3D model, involving its road car engineers and putting the finished design on public display. It denies any specific production future for the concept, however.
"Jaguars for the race track and the road have always shared the same DNA," said design director Julian Thomson, explaining why the creative team brought in engineers from its SV production car arm as well as from Jaguar Racing. The car "showcases what's possible when the traditional boundaries governing real-world car design are completely removed".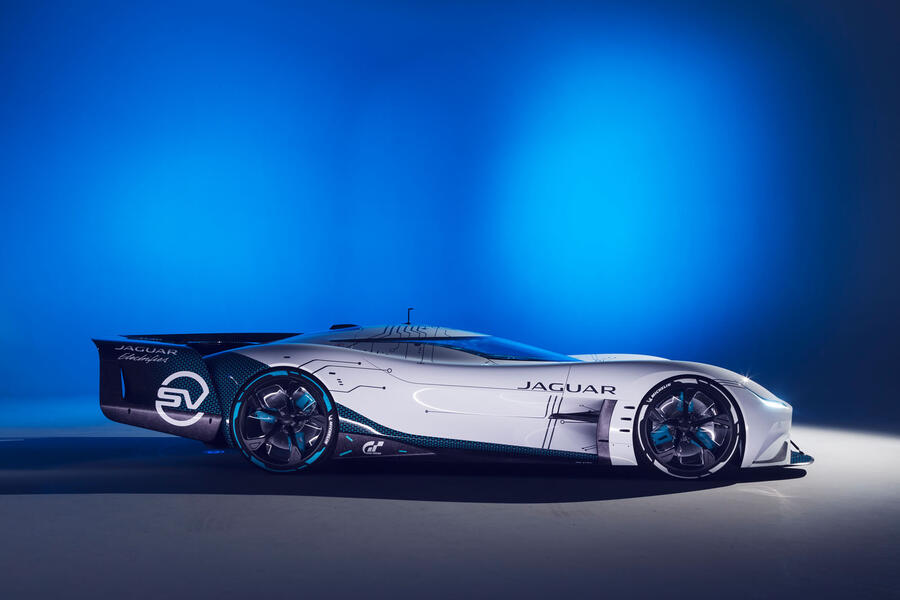 The Vision Gran Turismo SV has been engineered in the virtual world to deliver extreme performance, traction and high-speed stability. It succeeds a previous Jaguar Gran Turismo Coupé, which the current team now describes as "only the starting point".
The latest project has made it possible to re-evaluate everything, engineers say, and produce a car that's much more effective on Gran Turismo's wide range of tracks.
The car's shape contains subtle styling references to the C-Type, D-Type, XJR-9 and XJR-14, but Thomson pointed out that although the new GT SV is "inspired by the past, it looks fearlessly to the future".
Development of the new car, which will go live to users of the Sony PlayStation-based game early next year, has been greatly influenced by the views of gamers around the world, collected during what Jaguar calls "virtual world testing" via online videos and forums. A large proportion of Gran Turismo players are in the 25- to 35-year-old bracket – a group considered vital to the marque's future – which is why the company has put such effort into creating what it claims is "the perfect gaming endurance race car".
Jaguar's designers at first developed four competing themes after the GT SV idea was mooted about a year ago, then chose a winning design conceived by 28-year-old, Coventry-trained Oliver Cattell-Ford, who has been a member of Jaguar's advanced design team for six years.
"I'm proud my design was chosen," said Cattell-Ford, "but it's a bit of a responsibility knowing it's going to be seen and even driven by so many people. In any case, projects like this soon come to involve the whole team. We weren't tied to a particular date for the car, but we always had an eye on 2030. And Le Mans was also in the backs of our minds."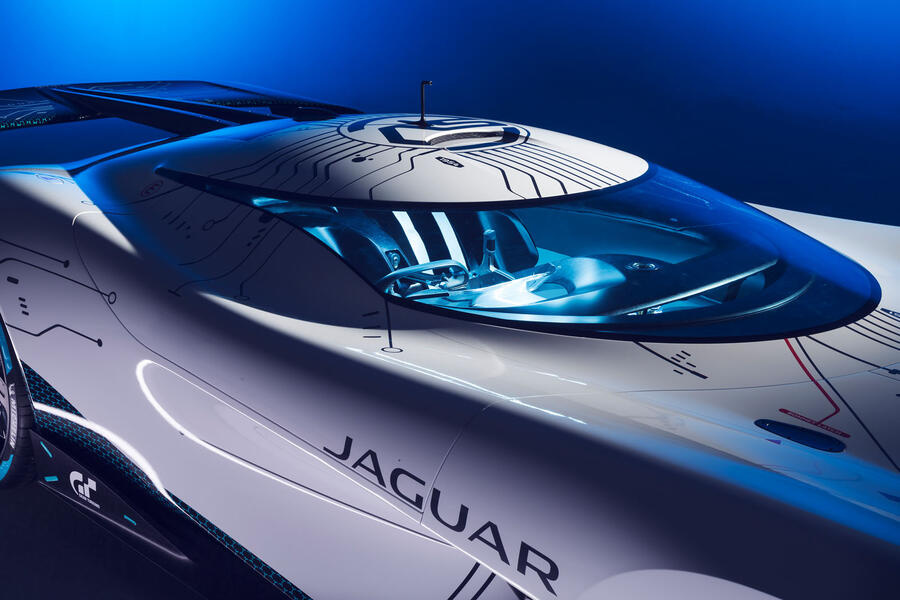 The most startling thing about the full-sized GT SV when you see it in the metal is its radical length-to-height relationship: it sits on the same 2721mm wheelbase as its predecessor but is 861mm longer, at 5540mm – around 14cm longer than the latest Rolls-Royce Ghost. Yet it's only just over one metre tall.
The extra length is all in the rear overhang, added by the dominant, deployable rear wing, whose shape nods to the XJR-14 in the way it wraps over and around the rear of the car. The GT SV's low, long body is made in lightweight composite. Every surface is new yet this is unmistakably a Jaguar, with surface curvatures and vents reminiscent of the marque's classic racers in a variety of subtle ways.
There are many clever details, such as Le Mans-style position lights on the body sides, a new, even narrower 'Jaguar J' headlight design, twin charging points that recall Jaguar's twin fuel tanks of the old days, a Perspex grille with subtle cut-outs that refer to the Jaguar 'leaper', an SV badge illuminated on the cockpit floor, a light strip on the body's extreme rear edge and a prominent, no-nonsense pitot tube mid-roof as a strong hint about extreme high-performance. Even the circuit-board livery contains references to the launch dates of the earliest racing Jags.
The GT SV has four in-board mounted Formula E-derived electric motors – one for each wheel – in an integrated powertrain designed at Jaguar Racing. The outgoing Coupé had three motors; only one motor on the front axle. Power from the four-motor set-up adds up to 1877bhp, with peak torque running to 2478lb ft. Each motor puts its power through an individual, single-speed transmission.
The one-motor-per-wheel arrangement allows very accurate, intelligent control of torque distribution across axles, as well as front to rear. Small wonder Jaguar's quoted 0-60mph sprint time is a spectacular 1.65sec, with top speed estimated at 255mph.
Small wonder also that engineers have designed a special, liquid-nitrogen circuit to cool the battery (carefully positioned for 50:50 weight distribution), allowing it to produce maximum power in longer bursts. On long straights like the Mulsanne at Le Mans, the cooling system will cause the car to blow off steam as it deploys maximum power.
Although Jaguar's designers have managed to utilise so many familiar styling cues, the GT SV's primary shape is heavily governed by aerodynamics, designed at Jaguar Racing using the same advanced CFD techniques as for its Formula E racers. The claimed drag coefficient of 0.398Cd sounds high in road car terms but is low for a race car that is always developing downforce that builds to nearly half a tonne at 200mph.
The dominant aero feature is the GT SV's huge rear wing with a pair of movable flaps at the trailing edge, designed to rise under intelligent control to add braking or downforce when needed, then to retract to cut drag as the car accelerates towards top speed. The GT SV has an enclosed, sculpted floor to feed underbody air smoothly from the huge front splitter to an equally enormous rear-mounted diffuser.
"We've developed the GT SV into a credible electric race car with performance on a par with current endurance race cars," said Jaguar SV aero chief Micheal O'Regan.
The interior detail is far more resolved than other Gran Turismo supercar creations. For one thing, the package can realistically accommodate a not quite centrally seated driver. The helmet-shaped cockpit bubble looks extremely low from outside but the driver still gets a decent view of the road ahead over a low bonnet, between the two large front wheel housings. At the sides, what look like windows are actually inward-looking screens that give 270deg visibility. The seats are one-piece affairs, made of a new carbonfibre material recycled from old Formula E cars.
As part of providing the ultimate virtual driving experience, Jaguar's engineers have designed a new, powerful, turbine-like sound they're calling "authentically but futuristically Jaguar" to accompany the stupendous performance as the quartet of motors approach their 40,000rpm redline. Gamers will hear it for the first time early next year.
In the meantime, ahead of the car's virtual track debut, there's great confidence in the engineering works. "We had one objective," said Jaguar SV engineering director Jamal Hameedi, "to take everything that makes the Jaguar GT Vision Coupé special and move it to another level. Our team didn't just achieve that target: they beat it."
Q&A: Adam Hatton, director of exterior design, Jaguar
Why take such trouble with a car you'll never build?
"Because it's still very important. This project is as serious as anything we're aiming at for production. It will be 'driven' by many more people than will ever get the chance to drive one of our production cars."
How do you decide how much heritage to use in a radical design like this?
"It's a wonderful resource, but you don't want too much of it. Some people are mesmerised by classic shapes – the D-Type and C-Type in particular – but a modern Jaguar can't just be a pastiche of 1958 to suit the traditionalists. There aren't enough of those. You want younger buyers for Jaguar, and you especially want female buyers. Fine if people respond to the heritage, but also fine if they're attracted to a beautiful new design."
So a new Jaguar design always has to be very forward looking, does it?
"I'd say that was a priority. There are quite a lot of cars out there that look a bit like Jaguars. We have rivals who like the direction we've taken and so do their buyers. We have to make sure we stay ahead and projects like this are a big part of that."
Which elements of this car will we see in future production cars?
"It's difficult to be specific, but we're proud of what we call 'liquid surfacing' on this car. It's difficult to get a nice degree of tension into soft shapes, but I believe we've achieved it here. And we've also used shutlines to describe the car's form in a pretty effective way and you'll see more of that. It's an important design."
READ MORE
New virtual Jaguar concept could preview future EVs
Virtual motors, real racing: The success story of esports
Jaguar eyes compact hatchback to succeed XE and XF