Mazda MX-30: full UK prices and specs of brand's first EV
The maker's first electric model will deliver 141bhp and 195lb ft from an electric motor powered by a 35.5kWh battery, offering a range of 130 miles. This is far less than many rivals, such as the 279-mile Hyundai Kona Electric, but Mazda says it exceeds the 31-mile average daily drive of European customers. 
Mazda added that it has chosen a smaller battery to achieve better emissions through the entire lifecycle of the car. Its research has found that a 35.5kWH battery produces fewer lifecycle emissions overall than a petrol-powered Mazda3 or an EV using a 95kWh battery (as the Audi E-tron) does. 
Christian Schultze, Mazda Europe R&D boss said: "We should not be excessive with battery size. We should consider how much range does a customer really need and how much battery [capacity] can we avoid to reduce CO2 substantially?"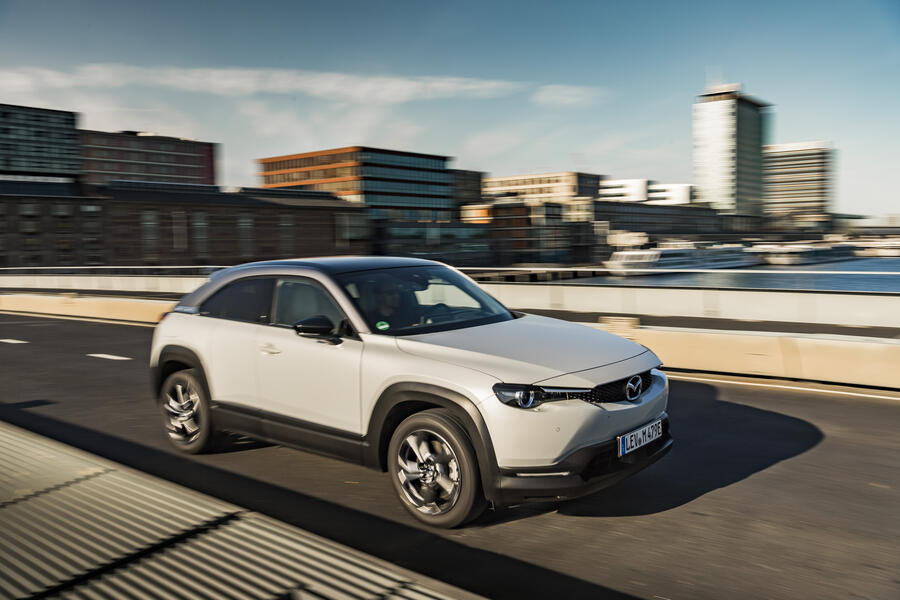 There are no plans for a higher-powered or higher-range flagship MX-30, project manager Takeuchi-san told Autocar.
Mazda has chosen to differentiate the MX-30 from other EVs in a number of driving characteristics. For example, it has less regenerative breaking than many EVs – eschewing the popular one-pedal driving style – and also more progressive acceleration. 
Schultze says: "For strong deceleration, we think the brake is better because it moves in the direction of our body. It has the same efficiency as the one-pedal of other EVs but has human advantages."
It has also introduced an artificial sound which is intended to imitate the sound variations heard in an internal combustion-engined car as torque is applied. Mazda told Autocar it is still deciding whether to offer a silent option, which would be controllable by a switch in the car. 
The crossover, unveiled at last year's Tokyo motor show, sits on a platform derived from the new architecture used on the Mazda3 and CX-30, but with increased ring structures around the battery and floor in order to achieve a "super stiff and fast-reacting body," said Schultze. 
It employs an enhanced version of Mazda's G-Vectoring control system called e-GVC Plus, which "leverages the torque characterisitcs of the electric motor to optimise the front-rear load shift under an even wider range of usage scenarios," said Mazda. The electric motor allows for more minute torque control than an engine, Schultze explained.