New 2021 Hyundai Tucson priced from £28,495
Side on, the angular theme continues, while at the back, the window wiper is hidden in the roof-mounted spoiler – a first for Hyundai – with the brand's logo set into the bottom of the rear windscreen.
At 4500mm long and 1865mm wide, the Tucson is 20mm longer and 15m wider than before, with the 2680mm wheelbase stretched by 10mm. Although two wheelbase versions will be built, only the shorter variant will come to the UK. Buyers can choose from 17in, 18in and 19in wheels and two-tone colour combinations.
Eduardo Ramirez, Hyundai Europe exterior designer, described the new Tucson's design as "quite brave". He added: "We're experimental, always trying to find a very distinctive character in design. Although that doesn't mean we'll apply the same formula to every car."
Ramirez continued: "It's always a big challenge to replace a car that's been so successful. We're so proud of Tucson, but we didn't want to fall into the trap of trying to retain what we had achieved and not go further. We felt free to innovate, which is how ideas like the hidden lights came to life."
The interior also marks a radical departure from previous Hyundai models, with a minimalist, 'layered' design. Hyundai has introduced new 'Multi-Air Mode Technology', which combines the direct and indirect air vents to reduce the space they take up and enable a gentler air flow.
The bulk of the physical controls have been removed, with the infotainment and heating controls accessed through a 10.25in vertically mounted touchscreen. There is also a 10.25in digital dashboard, configurable ambient lighting and a wireless smartphone charger.
The infotainment uses the latest version of Hyundai's Bluelink system, including a range of connected car functions such as Last Mile Navigation, which allows owners to switch route guidance to their smartphone if they park close to their destination.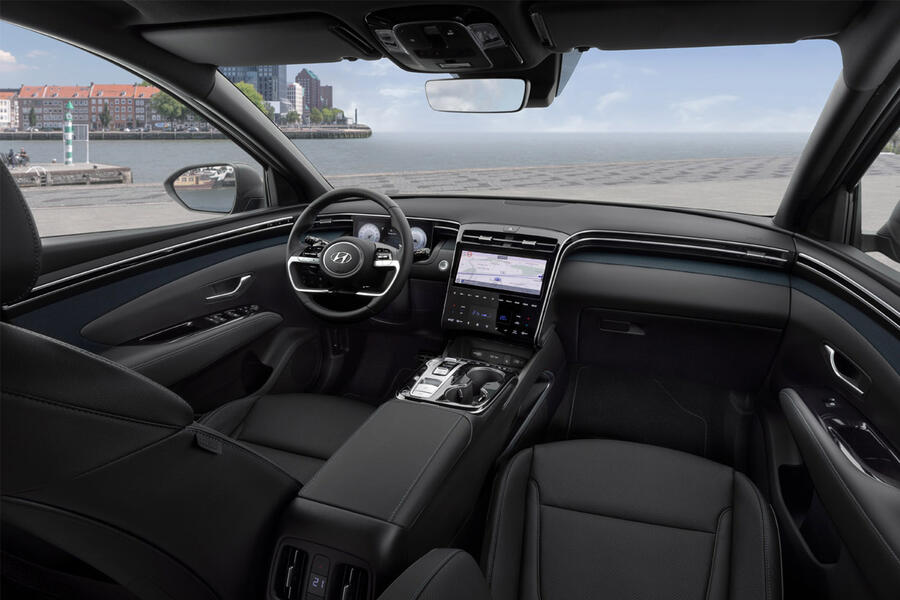 Hyundai says it has increased rear leg room. All models feature the same interior dimensions, with the batteries in the hybrid variants mounted under the rear seats.
Hyundai has also added a number of new safety and driver assistance features, including a central airbag and remote parking on the hybrid and PHEV models.