New electric Fiat 500: reborn city car gains £19,995 entry model
Fiat boss Olivier François said the new 500 is "not just the third generation of the car, but the third reincarnation of a spirit.
"We're all in. It's all electric and only electric from day one. With the 500's business success, that's a bold decision. But it doesn't feel the time to be timid. This car is not just for 2020, but the next decade. It's built new from the ground up."
The electric 500 will be produced at Fiat's plant in Mirafiori, Italy. Pre-ordering opened recently for the 'La Prima' high-spec launch edition convertible variant, which costs from £29,000 including the UK government's plug-in grant. The La Prima models will be highly limited in supply, with 500 assigned for the UK.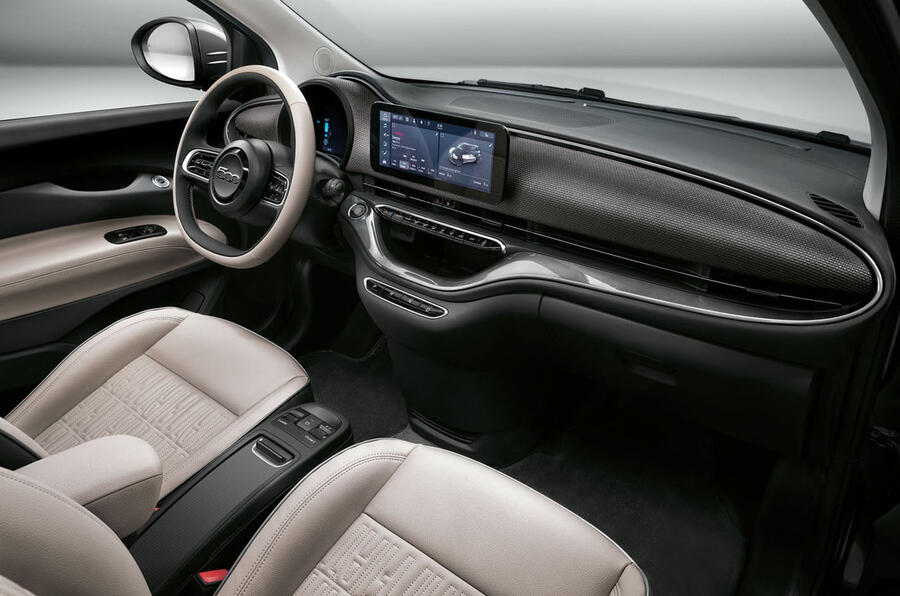 Top speed drops to 50mph when the most eco-focused of the three driving modes, called Sherpa, is selected. This reduces power, throttle response and top speed and switches off the climate control and other ancillary electronics.
Named after Himalayan Sherpas, who guide expeditions to a safe arrival, the mode is designed to reduce range anxiety and ensure the driver is able to reach a charging point should the battery run low.
The two other modes are Normal and Range, the latter of which significantly boosts the amount of regenerative braking to allow practically single-pedal driving. Interestingly, the now legally mandated low-speed acoustic warning in the new 500 is taken from Nina Rota's score for the film Amacord. "We wanted something that stands out. It's the only engine able to play a melody, like the ringtones of your phone," said François.
Launch-edition models, called La Prima, also come bundled with a Fiat-branded wall charging unit that offers basic 3kW charging but can be upgraded to allow 7.4kW charging at home.
The exterior look is evolved from that of the current 500. There are sharper lines, but the same cute style of the original remains in the light and bumper designs. Flush door handles now feature, as do LED headlights and tail-lights.
Although the exterior design is broadly similar, it's all change inside, addressing one of the ageing current 500's biggest weak points. The dashboard is much wider and the amount of switchgear significantly reduced for a much cleaner overall look.