Raeder's Choice: meeting Manthey Racing
And they proved exceptionally good at it. The pair eventually made big ripples when their Ford GT, developed on a shoestring's shoestring, qualified on pole for the 2009 Nürburgring 24 Hours ahead of four works Audi R8 LMS cars and the Porsche works 911 GT3 RSR run by bearded Olaf himself.
Two years later came the pivotal race. Having seen first-hand what Raeder Motorsport could do with almost no money, then boss of Audi Quattro GmbH and Nürburgring regular Werner Frowein handed it the contract to build the TT RS racing car. And it was in 2011 that one of these front-driven Audis, in damp conditions, won the six-hour ADAC Ruhr-Pokal-Rennen race ahead of no fewer than 30 GT3 cars. Remarkable doesn't begin to describe it, and clearly Olaf Manthey thought so, too.
"Olaf was the first to come and shake our hands," recalls Nicki, still as proud now as he and his brother had been that very evening, when they related the moment to their motorsport-agnostic parents. So enthusiastic were Nicki and Martin that their mother (who else?) tracked down an email address for Herr Manthey to thank him for the moral support.
Olaf's lengthy reply floored them all when he wrote how, after the death of his own son in 2007, he had resigned himself to having nobody to follow in his footsteps, but now hoped to have the Raeder brothers take the reins at Manthey Racing.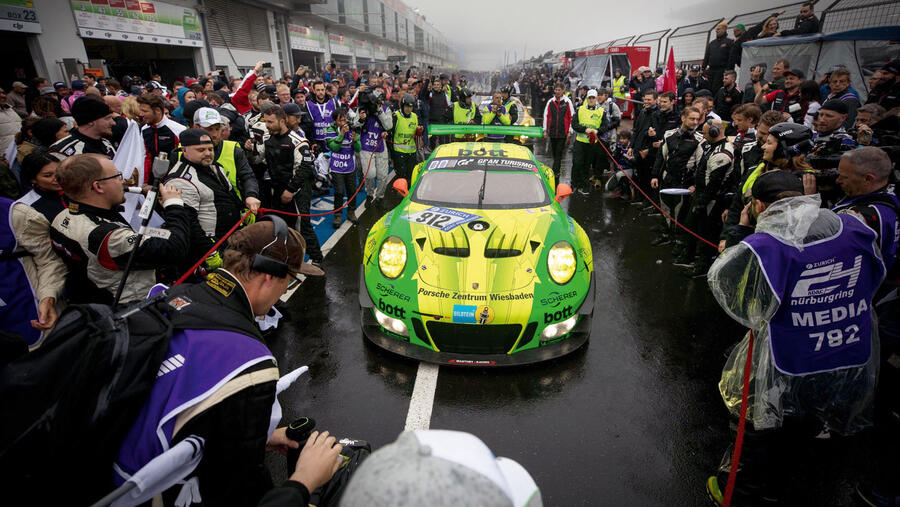 By 2013, Raeder Motorsport had been integrated into the wider Manthey Racing business, Porsche had taken the majority share in the team and Olaf had handed operational control to Nicki and Martin. Seven years since then, Manthey Racing's turnover has increased sixfold to around €45 million, with the Porsche contract for WEC and Le Mans accounting for around 20% of that.
The business has also diversified, not least with those MR packages for the GT3 and GT2 RS, and it is an MR-equipped GT2 RS that until recently held the Nordschleife lap record for road cars, with a time seven seconds quicker than the standard car's. Does that irritate Porsche? Actually, no. It goes back to the notion of Porsche engineers 'living out their fantasies'. It's a literal claim. Since 2015, when contact was first established, the Raeders and Preuninger have tentatively built an effective and beneficial feedback loop when it comes to developing not only the factory-spec GT cars but also the more explicit MR kits.