Second order saloons: BMW M550i vs Mercedes-AMG E53 Estate
The M550i's 4.4-litre turbo V8 – a motor closely related to the one you'll find in an M5 Competition anyway – wants for absolutely nothing you'd ever be likely to miss during UK road driving. It's got huge reserves of power and torque, a quietly enticing and cultured V8 exhaust note to compliment; and it's a monstrously fast car.
Ride isolation and rolling refinement are very good, although perhaps slightly blunted by the BMW's standard-fit runflat tyres. Steering feel is neutered just a little as you guide the car off-centre, for the same tyre-related reason, I suspect; the unyielding sidewalls of runflat tyres just don't quite load up and flex in the way a conventional tyre would.
The 5-Series' chassis is really well-balanced, though, and its body control can be adjusted from pillowy and absorbtive to closely tied down with the adjustable driver modes. So when you want it to feel like a mini-M5, the M550i xDrive can (although more like an old V8-powered 'E39', predictably, than any since). But it needn't feel like that on a midnight return from the airport, or on the weekend family jaunt to visit Grandma, if you don't want it to. This is, in short, a modern fast BMW like they used to be; one that, as a road car, simply offers more.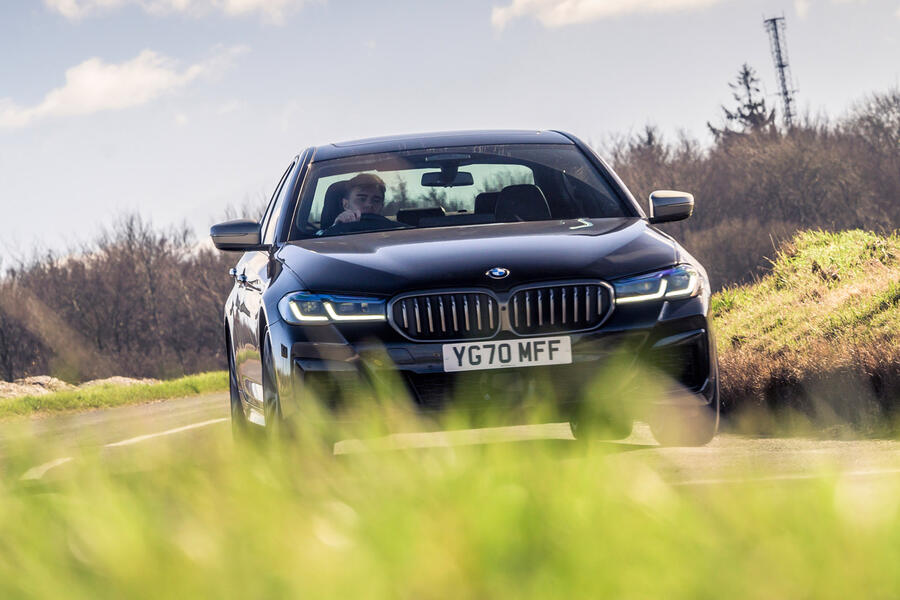 Mercedes-AMG's E53 has a better all-round visibility and a less sunken driving position than the BMW. For interior ambience, it's the more flashily luxurious and tech-laden car, too, thanks to its domineering side-by-side digital instrument screens, and all of the chrome trim and leather around the cabin. The BMW's driving position is better, but the Mercedes' is almost as comfortable and easier to access.