Stroke of genius: why car signwriting is making a comeback
One memorable job, he says, was signwriting a restored Porsche 911 that raced at Le Mans in 1972. A typical job takes a couple of days. He uses a selection of sable brushes known in the trade as writing pencils. Unlike conventional brushes, the bristles are cut straight at the tip like a chisel, rather than tapered. He uses a maulstick to support and steady his painting arm. The paint is special signwriting enamel with good covering ability that flows easily and is so durable that it doesn't require varnish.
I'm surprised to see that Smith first writes or draws a positional rendering in chalk like a trace, a technique called a pounce. However, he doesn't paint over it since that would be tracing rather than signwriting in freehand. Tricks of the trade include painting the base of a vertical stroke, such as a capital 'T', in the shape of a fish tail, using a technique known as 'lift and twist'. He fills it in with a deft horizontal stroke. "Every brush stroke is a breath held," he says.
"When pinstriping and detailing, especially around a mascot, I feel time is almost standing still." Smith describes signwriting as art and says he lives for the "aesthetics of period lettering". I wonder, then, what he'd think of Scott Manser, a signwriter based in Camberley, Surrey, who calls himself a "working, jobbing tradesman". Manser says: "In the old days, many signwriters were painters and decorators. There was nothing artistic about the job. Even mechanics would try their hand at lettering and numbering race cars."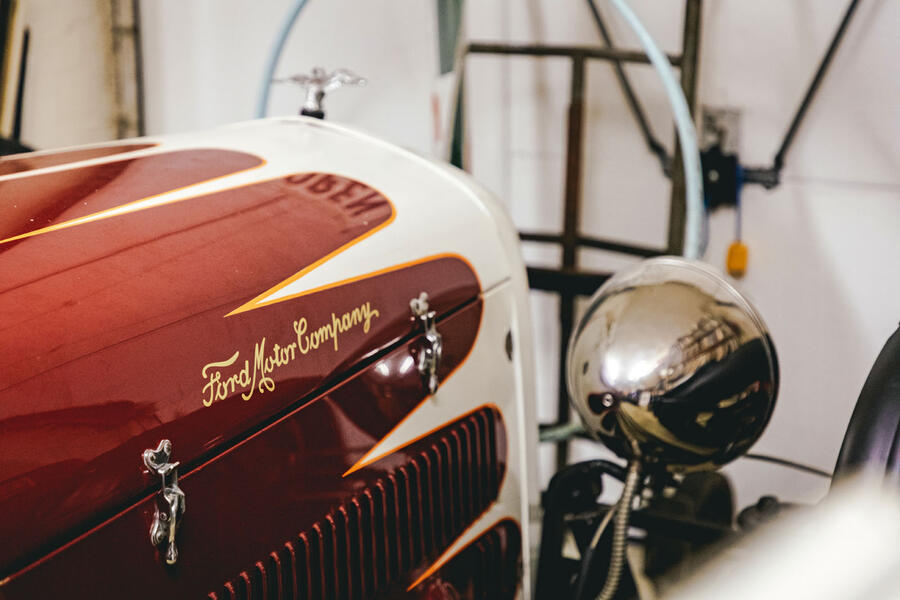 Naturally, these amateur signwriters didn't produce the finest work, but for one of Manser's customers, that was the point. "He'd had a Barnato Hassan Bentley racer restored," says Manser. "It looked authentic, but for the finishing touch he wanted the numbers and script on the body to look exactly as they did in the original photos of the car.