The 414bhp Volvo P1800: Driving Cyan's race-bred resto-mod
Cyan's P1800 eases away. It's firmly damped, but not harsh. Body control's impeccable but, well, the body is light, after all. There's not a hint of chassis flex.
At 1748mm wide, owing to its extended hot-rod wheel arches, the Cyan is around 50mm wider than a standard P1800, but still a truly compact car, and only 4203mm long. In feel, then, think a bit bigger, a bit less wieldy, than a Caterham 7, but not by that much.
The steering is medium weighted, superbly accurate and remarkably free of kickback. It doesn't take on much additional weight as you add cornering forces, but it retains its smoothness. Bååth tells me it's not fully calibrated yet. I like it, but I'd accept a bit less isolation for a bit more feel.
But I'd be splitting hairs. It's a totally immersive drive. The engine's noisy, the transmission whine even more so, and mooching around at 3000, 4000 revs, you start to wonder if the full 414bhp is there. It is, if you search for it: stay in second gear when all the noise tells you to grab third, as in a Porsche Cayman GT4, and really extend its legs. Then you'll find the power, and the poise, and grip, and balance, to back it up.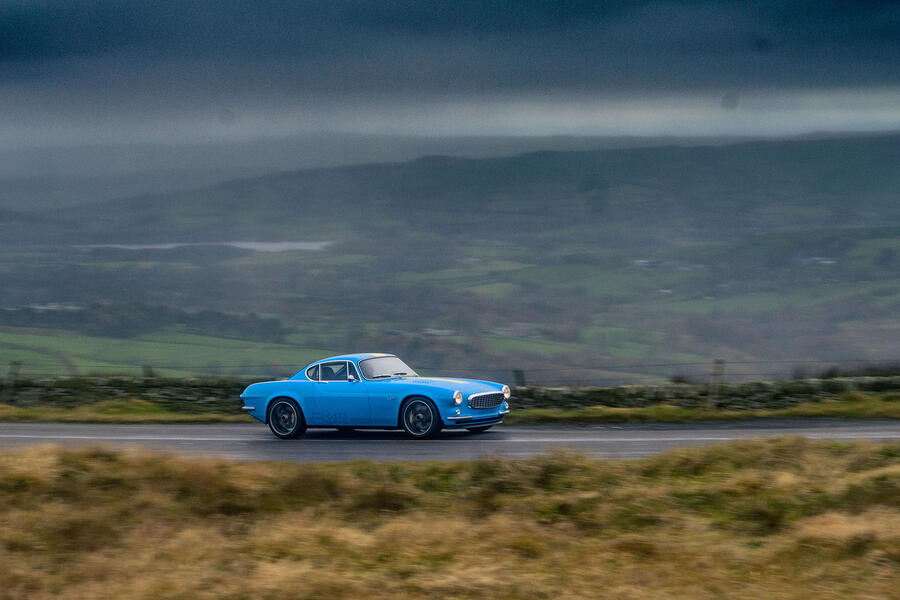 And with such composure in the chassis and smoothness in the steering comes the gearshift. The stick rattles quite often but moves between gears more like the speed controller on an old-fashioned pillar drill or lathe than a car's gearlever. I can't remember the last time shifting gears was this much of a pleasure. The whole experience is engaging like nothing modern this side of a Caterham, Ariel or Lotus Elise.
Compared with a GTA-R? I think I found the Alfa more entertaining but wouldn't want to call the comparison: the Alfa was the first car like this I'd driven, and your second taste of something is never as intense as the first. Besides, with a bit more soundproofing and dampers slackened a touch, the Cyan P1800 would make an exceptional grand tourer and I don't think GTA-R could be.
And both are built in such tiny numbers – Cyan thinks it could make 10 a year, priced at nearly £400,000 – and to such unique specifications, that what's the point of comparing?