The Biggest Car News of 2020, from COVID-19 to Revived Trucks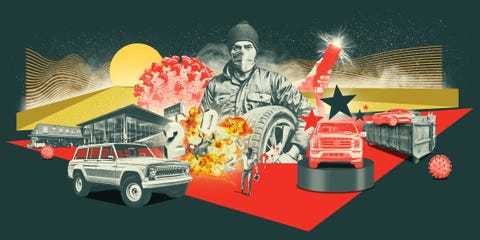 Car and DriverCar and Driver
For all the times that "unprecedented" served as an accurate adjective for news in 2020—and automakers did see plenty of that this year—some of the most newsworthy events of 2020 were continuations from 2019 and even 2018. American car buyers once again bought more SUVs and trucks than sedans, just doing so to a greater degree this year. The push toward electrification continued, and Tesla's dominance in electric vehicles was hard to ignore. And although we have seen many truck names come back in recent years, 2020 was perhaps the apex of that trend.
But yes, there is no talking about 2020 without talking about COVID-19. The pandemic was an outsize driver of news this year, and that stayed true for the auto industry. There is no separating the biggest news stories of this year from the pandemic, even if , for instance, the debut of the GMC Hummer EV seems like it wouldn't be related to the pandemic (hint: the pandemic delayed that reveal, like many others).
So here are the biggest news stories from a really unusual year. Maybe if we're lucky, once the calendar says "2021," we'll forget any of this happened.
Advertisement – Continue Reading Below
Of everything that happened this year, COVID-19 underscored nearly all of it.
One of the trendiest things to do this year: announce plans for your future electric-vehicle lineup and sales goals.
The other trendy thing to do: revive a truck nameplate.
In the last couple of years, many previously retired names had been brought back, including the Lincoln Aviator, the Chevrolet Blazer and Trailblazer, and the Ford Ranger. Maybe it's been to capitalize on name recognition or simply because those names were already trademarked. Either way, this trend fully realized its potential this year.
In 2020 alone, automakers brought back the Ford Bronco, the GMC Hummer (now in EV form), and the Jeep Grand Wagoneer, the three of which make up some of the most recognizable SUV nameplates ever to see American roads. And each automaker made sure the revamped examples would be even more memorable than their former versions.
Tesla, with five consecutive quarters of profit, showed it's a force to be reckoned with—one that's not going anywhere anytime soon.
Trucks and SUVs saved the automakers from what could've been a dismal year.
After the pandemic began in the U.S., new-vehicle sales tanked—but SUV and truck sales took much less of a hit than the rest of the market. Each time automakers reported sales, whether it was at monthly or quarterly intervals, the strength and popularity of SUVs and trucks underlined the results. This is what ultimately led to a profitable third quarter for many automakers.
In April, pickup-truck sales passed those of sedans for the first time ever, a development helped by contracting sedan sales. Nonetheless, the success of more expensive vehicles through the pandemic is another indication of who the pandemic has been taking the biggest toll on: lower-income individuals, while those with higher incomes kept their jobs and kept buying vehicles.
Sedans, particularly for American automakers, have gotten close to just being a memory.
The transformation to sedan-free lineups started several years ago, but this year sedan offerings—particularly those from American automakers—shrank considerably. Ford no longer has any sedans being built as the Ford Fusion, Lincoln Continental, and Lincoln MKZ all ended production this year. In the General Motors lineup, the Chevrolet Impala and Sonic and the Cadillac CT6 all came to an end in 2020.
The transition came at a good time; fewer people were in the market for sedans this year, and cheap gas prices bolstered sales for the SUVs and trucks in which automakers have invested heavily. And while we aren't going to see every dealer lot go completely sedan-free, we can't forget about the sedans from numerous other automakers that American buyers will no longer get, including the Acura RLX, Honda Fit, Jaguar XE, Lexus GS, Mercedes-Benz SLC, and Toyota Yaris.
This content is created and maintained by a third party, and imported onto this page to help users provide their email addresses. You may be able to find more information about this and similar content at piano.io
Advertisement – Continue Reading Below