Top 10 Cars You Couldn't Get Enough Of in 2020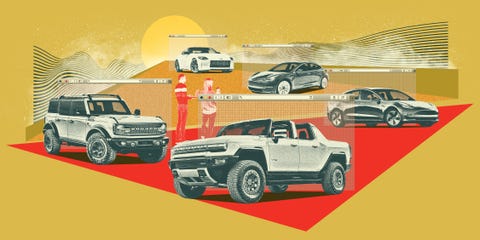 Illustration by Ryan OlbryshCar and Driver
We saw a lot of exciting new car debuts this year, including the revival of the Ford Bronco and an electric Hummer pickup, and you were keen to read about them. These are the most popular models on our website in 2020, some of which are already on sale and some of which are slated to reach dealerships in the near future.
Advertisement – Continue Reading Below
10
Honda CR-V
It stands to reason that one of the best-selling cars of the year is also one of the cars that generates the most interest online. The CR-V compact crossover added a hybrid variant for 2020 that averaged 33 mpg in our test. It hasn't changed at all for the 2021 model year, remaining the same practical and sensible small SUV that it's always been.
Read More
9
Genesis GV80
Genesis kicked off the year with a bang, showing an advertisement for its new GV80 SUV during the Super Bowl in February. This got the luxury brand's name out there in a big way, and interest remained high for the new mid-size luxury crossover throughout the year. We finally got our hands on a GV80 later in the year, and it impressed us, even earning a 10Best award for 2021.
Read More
8
Lamborghini Urus
Wait, Lamborghini makes an SUV now? Yes, and the Urus has been around since 2019. Even still, it's no surprise that interest remains high for this 641-horsepower beast that now comes in a range of bright colors for 2021. The lime greens and searing orange hues of the new Pearl Capsule packages are fitting for a super-SUV that costs upwards of a quarter-million dollars and rockets to 60 mph in 3.1 seconds in our testing.
Read More
7
Mazda CX-5
It's no secret we are fans of the Mazda CX-5. It's a comparison-test winner and a 10Best award winner, and it's the best-selling vehicle in the Mazda lineup to boot. So we're glad that it's among the most highly searched vehicles of the year, because it's our favorite among the horde of compact crossovers for sale. 2021 updates include a new infotainment system and a Carbon Edition trim.
Read More
6
Jeep Grand Wagoneer
It might be time to accept that Jeep is becoming a luxury brand, as evidenced by the $100,000-plus Grand Wagoneer, which was previewed by an extravagant-looking concept. It'll have screens galore including a digital gauge cluster, two infotainment screens, and rear entertainment screens. Arriving in 2021 priced between $60,000 to $100,000, there will be a standard Wagoneer and a more luxurious Grand Wagoneer.
Read More
5
Tesla Model 3
The Tesla Model 3 has lots of fun features, and we currently have one in our long-term fleet, so we conjured up a complete guide to Tesla's entry-level electric sedan. For 2021, the Model 3 gets a new look with black trim and three new wheel options along with enhancements including a new center console with dual wireless charging pads. It also gets improved driving range for the Standard Range Plus, which claims 263 miles, and the Long Range, which claims to go 353 miles on a charge.
Read More
4
Nissan Z
We're finally getting a new Z, as previewed by a production-intent prototype revealed earlier this year. It's powered by a twin-turbo V-6 with a six-speed manual transmission. Think of the Z Proto's design as a melting pot of previous Zs. The headlights are inspired by the 240Z's and the taillights by 300ZX's, and there's even a "Fairlady Z" badge atop the trunk lid. Arriving sometime next year, the new sports car—likely to be called 400Z—should be worth the wait.
Read More
3
Kia Telluride
The Kia Telluride is our favorite mid-size SUV. So much so that we've given it our highest honor, a 10Best award, ever since it first went on sale in the U.S. The Telluride gives us the experience of a luxury SUV without the high price tag. Your passengers will be surprised that it costs less than $50,000. For 2021, it added a stealthy Nightfall Edition and some new paint colors. We sure hope Kia keeps pumping out cars as good as this one.
Read More
2
GMC Hummer EV
Yes, the Hummer is back. Only this time it's not the gas-guzzling, military-inspired behemoth you might remember. It's electric, has up to 1000 horsepower, and, well, it is still gigantic. It sits on 35-inch tires, has an adaptive air suspension, skid plates, and "Crab Mode", which uses the rear steering to move diagonally. The Hummer EV, which will eventually be available in pickup and SUV forms, is the first of GM's 30 electric vehicles that will arrive by 2025.
Read More
1
Ford Bronco
You knew it was coming. The return of the Ford Bronco was the story that dominated 2020, from the early spy photos to the leaked images of the real thing to the full data dump of all the most exciting specs. We covered every inch of the new off-road-ready SUV, which comes in two- and four-door forms along with a Bronco Sport crossover sibling. We rode along in one a few months ago, but we haven't gotten a chance to drive it yet and we sure hope that opportunity is coming soon.
Read More
This content is created and maintained by a third party, and imported onto this page to help users provide their email addresses. You may be able to find more information about this and similar content at piano.io
Advertisement – Continue Reading Below