What are the different types of electric car plugs?
CHAdeMO plug
CHAdeMO is the abbreviation for the rather enigmatic sounding 'Charge de Move', one of the first DC rapid charging systems. Devised in 2010 in Japan, it's still the connector favoured by Honda, Mitsubishi, Nissan, Subaru and Toyota. Like the CCS system it is used for rapid charging and is currently capable of carrying up to 400kW, with Chinese technology providers looking to up this to 900kW.
Unlike its CCS rival, CHAdeMO requires the car to have two separate plugs for rapid and slow/fast charging (one CHAdeMO, the other a Type 2 or Type 1 socket). That's not necessarily a hassle from a usability point of view, but it does mean a much larger access flap, which can be harder to package into the car's styling.
While CHAdeMO is less popular in Europe than CCS, it does have one trick up its sleeve: the ability to carry electrical current in two directions, which in theory allows for 'Vehicle to Grid' energy transfer. Still in its early days, this technology allows you to use some of the electricity from your fully charged EV to partly power your home, or even sell some of the unused energy back to the National Grid.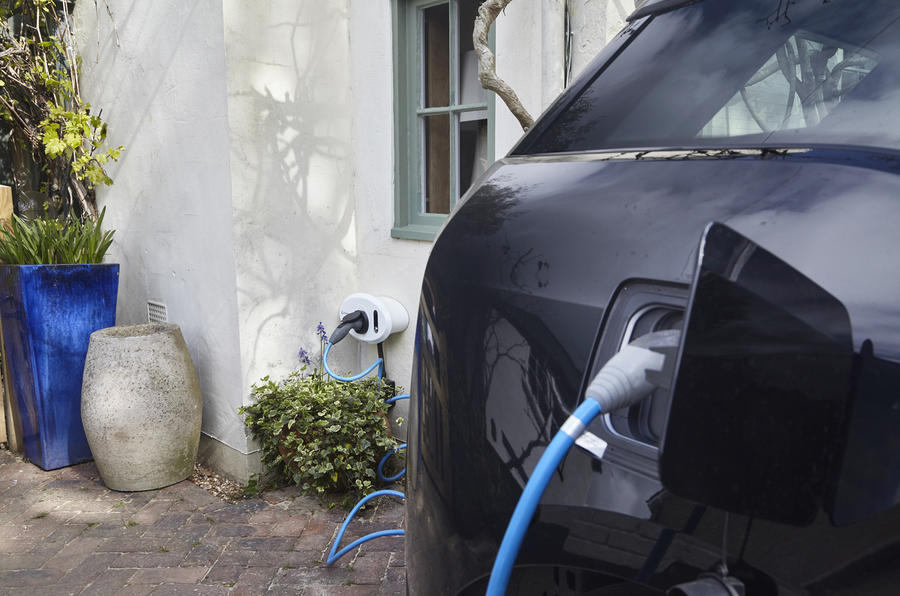 Domestic socket
Almost all EVs have the capability to be charged from a domestic supply using a familiar 3-pin plug. This charger simply plugs into your home socket and is connected to a small transformer box that has either a Type 1 or Type 2 plug at the other end, which you connect to the car. It's recommended as an emergency solution (such as when you're staying with friends and family and need a top-up), because prolonged use can damage your home's wiring. It must also never be used with an extension lead.
CEE plug
Popular with very early electric cars, such as the G-Wiz, this is also known as the 'camping connector'. It refers to the plug at the power supply and is the same sort used by campsites to provide electrical power to visiting caravans and campers. You can have it installed in your home, where it will deliver a 3kW slow charge, but it also has the added bonus of working with an industrial standard three-phase supply for fast charging at up to 22kW.