What's it like at the UK's first bespoke electric car forecourt?
Harper has driven an EV for eight years and freely admits that slotting one into your daily life is "not for the faint-hearted". He argues that public infrastructure as it stands is "expensive", "not very reliable" and, above all, sparse. Add to that the fact that some 40% of UK drivers have no access to off-street parking and it's plain to see why there are widely held doubts about the UK's ability to go largely electric in the next nine years.
So where does Gridserve come in? "We're trying to make it really easy and build infrastructure that people in this community can depend on," Harper says, pointing out that even drivers of older and cheaper EVs like the Renault Twizy and Skoda Citigo-e iV are catered for by lower-capacity chargers, while a bank of Tesla devices at the rear puts the site on the American firm's ever-growing Supercharger network. "We've built something that's designed for people to turn up to. It's a place you'd be happy to be at," he suggests.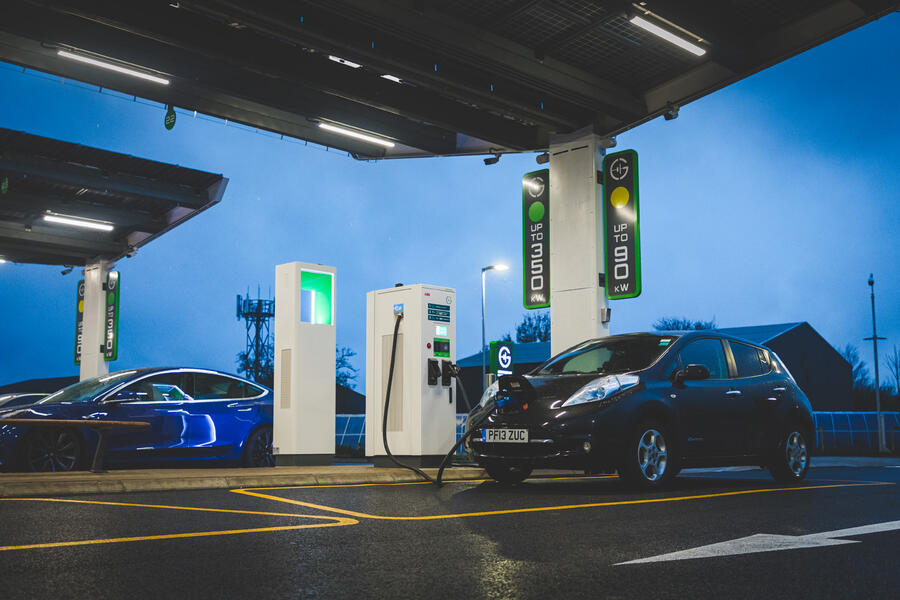 Certainly, the vast array of electric cars joining our Vauxhall Corsa-e long-termer at the 'pumps' is reflective of the site's potential universal appeal. Tesla Model 3s, Nissan Leafs, Porsche Taycans and even a new Mazda MX-30 are each present and correct, providing not just an opportunity to see how diverse EVs have become in recent years but also how much more useful charging facilities would be if they weren't so restrictive in terms of membership, connection type and charging capacity. 
Understandably, Harper is especially ebullient in recognising that the government's announcement came just two weeks before his firm's first facility switched on the lights. "Investors used to say, 'what if no-one turns up?', and I said 'they will, because they'll want coffee and things from the supermarket – and the battery will still stabilise the grid, so the lights will stay on'. The good news of the government's 2030 news is that I don't need to hide behind charging anymore. People will turn up; they have to."
Along with funding from Hitachi Capital, the Braintree site was developed with financial assistance from Innovate UK, the government-backed organisation that supports research and innovation, but Harper is keen for follow-up locations to stand on their own two feet. "Innovate UK is designed to demonstrate innovation," he says, "and, having demonstrated it, we don't need subsidies to make it happen. So we won't be coming back to the government for handouts."