Why approved crash repairers aren't the only option
And where better to start than with this battered Jag? Its engine and eight-speed gearbox have been removed and lie behind a plastic screen. With its bonnet and wings also removed to expose its A-pillar reinforcement beams and chassis rails, the car looks like a giant stag beetle. Panel technician Steve Johnson is preparing to replace one of the A-pillars and its reinforcement structure and straighten a chassis leg. Later, he'll check the alignment to make sure everything's true.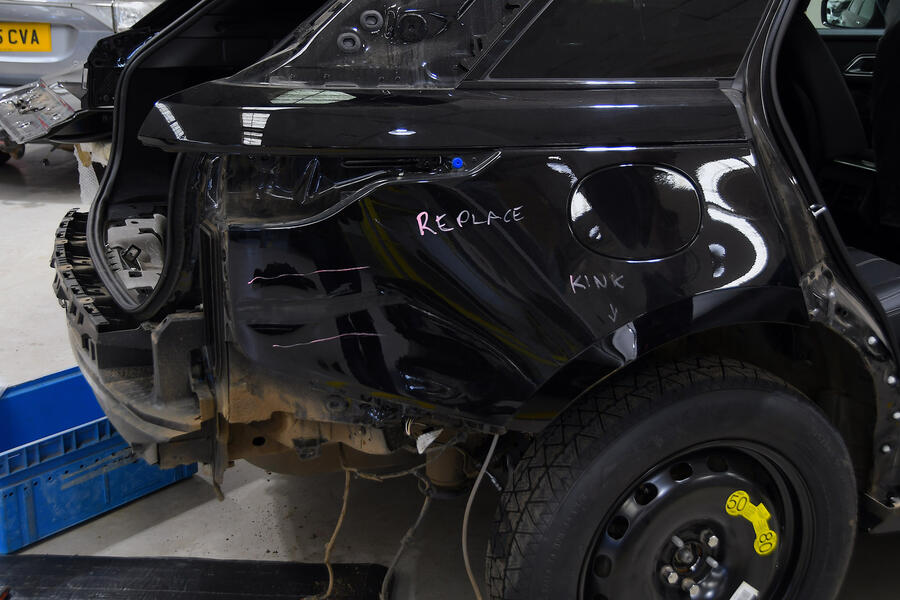 It looks like a straightforward, if major, repair, except the XJ is aluminium, a material that requires special treatment, while those who work with it require intensive training and dedicated tools.
"Aluminium is the new steel," says Ellis Lennon, Brian's son and Castle's vehicle damage assessor, charged with knowing all the correct repair techniques. At one time he was the country's youngest panel technician approved by JLR and Mercedes; no small achievement given that the failure rate on automotive aluminium training courses is high. "Aluminium has no memory so won't return to its former shape," he says. "As you work it, it gets stiffer. It can't come into contact with steel and if you expose it for too long, it oxidises."
Just like steel there are multiple varieties of aluminium, some containing more silicone for greater flexibility and used for external panels, and others containing more magnesium for strength, in areas such as the bulkhead. JLR vehicles feature at least five different grades of aluminium. The front of the Jag features three alone.
"If this were steel, we could repair it in situ," says Ellis. "But aluminium stretches so we'll cut away the damaged areas and replace with new panels that we'll weld, bond or rivet as required. Other bodyshops might try to get away with patching the damaged panels with filler."
To avoid cross-contamination with steel, the tools and equipment that Ellis and his team use must be cleaned and stored separately. They also need to be regularly updated. "The investment in tools is considerable. Our rivet guns will be outdated in 12 months' time," he says.
Training isn't cheap, either. Mercedes, for example, demands that technicians attend its training courses twice a year for four days at a stretch, at a cost of £2000.