Steve Cropley: Calling all budding hillclimb drivers
This week, Steve issues a call for more entrants to join Autocar's new hill climb competition – more details here – wafts around Goodwood in his last ever foray in his Bentley Bentayga long-termer and more.
Monday
Delighted with the response to our recently announced Autocar-Shelsley Walsh Young Drivers' Championship as we prepare for the first practice day – under full instruction – at the Curborough sprint track on 11 July. The five-round competition is for 17- to 21-year-olds with road licences, driving roadworthy 1.2-litre Vauxhall Corsas they bought for £2500 or so. A big advantage, we think, is that young drivers can compete in a car they also drive to work.
Click here to buy your next used Corsa from Autocar
A recent launch at the famous Worcestershire track starred the competition's first entrant, 21-year-old Ben Edwards, who has since been joined by a coterie of others. But we need even more budding hillclimb drivers, especially females, to really make the thing fly. If you fancy it, or know someone who does, please find details and entry forms on the Midland Automobile Club's website (midlandautomobileclub.co.uk) together with lots about licensing, entry fees, car prep, and buying (specially discounted) helmets, overalls and gloves. We're impatient to meet the stars of tomorrow!
Tuesday AM
To Goodwood for my last-ever foray in the Autocar Bentley Bentayga, which will now waft its way back to Crewe because they've got a buyer who can't wait. This is the second time I've had a car bought from under me. The first was a blue Aston Martin Vantage V8 drophead, years ago, and I had the same mixed feelings then as I do now. I'm naturally sorry to see the car go, but I can also identify with the new owner's keenness to get behind the wheel of a dream car.
I arrived too early at Goodwood so parked in a corner of the paddock and waited for the Driving Day event to get going, with only Mike Hawthorn and Lofty England (the life-sized statues in the background) for company.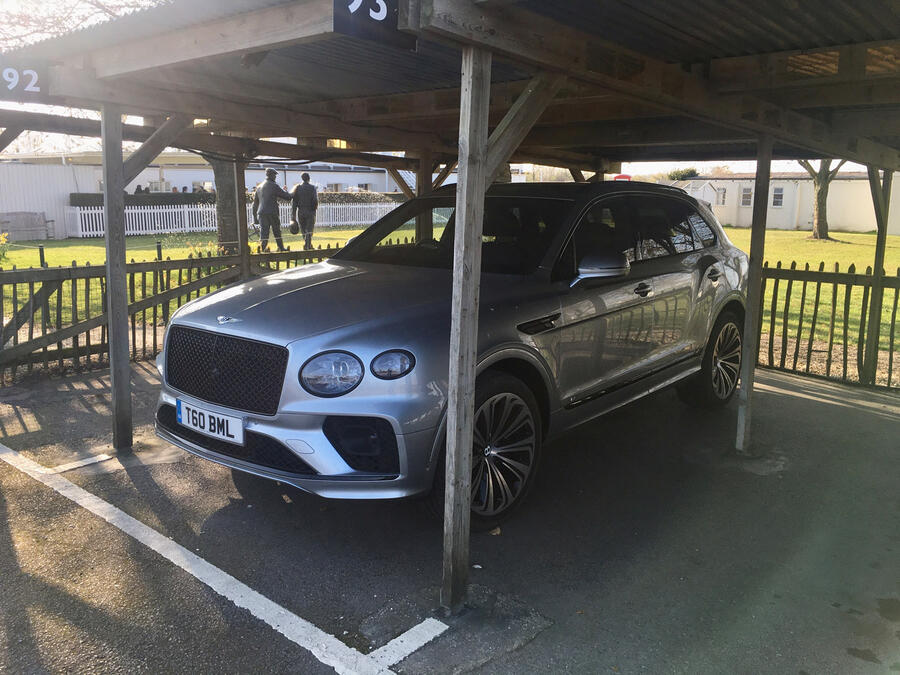 Tuesday PM
Wonderful sunny day with the greenery just starting to show across the Goodwood estate so I concentrated on driving potent electric cars – Ford Mustang Mach-E, Porsche Taycan Turbo and Polestar 2 Performance – on a road route they'd laid out, combining dual carriageways where you could sprint a little bit with some narrower roads with some pretty testing bumps. The major challenge in the woods was avoiding suicidal pheasants hell-bent on head-butting the grilles of passing cars.