View In-Depth Photos of the 2020 Nissan Frontier PRO-4X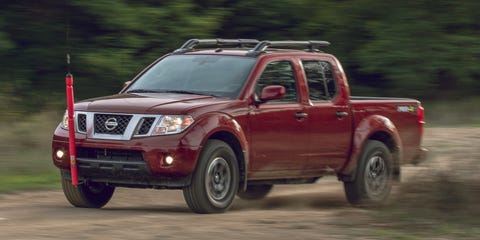 Michael SimariCar and Driver
The Nissan Frontier gets redesigned next year for the first time since 2005. But for 2020, the new 3.8-liter V6 and nine-speed automatic transmission get dropped in the current-gen truck, making for an intriguing proposition—old truck, new engine and transmission—for one year only.
Read the full review
1 of 58
The 3.8-liter VQ38 makes 310 horsepower, enough to narrowly edge out the 308-horsepower Chevy Colorado in the not-so-heated mid-size truck horsepower wars.
2 of 58
The new 3.8-liter's 281 pound-feet of torque is the same as last year's 4.0-liter V-6, but at slightly higher rpm.
3 of 58
A nine-speed automatic replaces last year's five-speed auto. And, unfortunately, the six-speed manual, too. Also dead: the four-cylinder models.
4 of 58
Despite the new engine and transmission, our 2020 Pro-4X model posted the same 7.3-second zero-to-60-mph run as the last Frontier we tested, a 2017 model.
5 of 58
Our 75-mph highway fuel economy figure, 20 mpg, also equaled the 2017 Frontier's performance. The 2020 truck did slightly worse in overall fuel economy, 15 mpg to 16 mpg.
6 of 58
We can say that the 2020 Frontier made great strides in top speed, hitting a "is it really supposed to go that fast" 120 mph.
7 of 58
The Frontier's interior is an orange-backlit time capsule from the early 2000s.
8 of 58
We can say this: the Frontier was way out front on the roof-rack trend.
9 of 58
The Pro-4X isn't a Colorado ZR2, but a locking rear diff, Bilstein dampers, and off-road Hankook tires promise real off-road ability.
10 of 58
The scab of plastic over the old ignition switch reminds you that this Frontier predated keyless ignition in trucks.
11 of 58
2020 Nissan Frontier PRO-4X
12 of 58
2020 Nissan Frontier PRO-4X
13 of 58
2020 Nissan Frontier PRO-4X
14 of 58
2020 Nissan Frontier PRO-4X
15 of 58
2020 Nissan Frontier PRO-4X
16 of 58
2020 Nissan Frontier PRO-4X
17 of 58
2020 Nissan Frontier PRO-4X
18 of 58
2020 Nissan Frontier PRO-4X
19 of 58
2020 Nissan Frontier PRO-4X
20 of 58
2020 Nissan Frontier PRO-4X
21 of 58
2020 Nissan Frontier PRO-4X
22 of 58
2020 Nissan Frontier PRO-4X
23 of 58
2020 Nissan Frontier PRO-4X
24 of 58
2020 Nissan Frontier PRO-4X
25 of 58
2020 Nissan Frontier PRO-4X
26 of 58
2020 Nissan Frontier PRO-4X
27 of 58
2020 Nissan Frontier PRO-4X
28 of 58
2020 Nissan Frontier PRO-4X
29 of 58
2020 Nissan Frontier PRO-4X
30 of 58
2020 Nissan Frontier PRO-4X
Advertisement – Continue Reading Below
This content is created and maintained by a third party, and imported onto this page to help users provide their email addresses. You may be able to find more information about this and similar content at piano.io