View Photos of the 2021 Infiniti QX80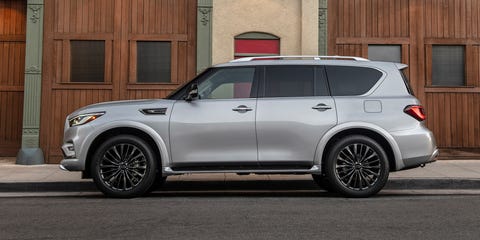 Infiniti
Instead of Luxe and Limited, we now have Luxe, Premium Select, and Sensory. The latter includes every available option and costs $6,970 less than last year's model. Based on the Nissan Armada (and the foreign-market Nissan Patrol), the QX80 isn't the freshest SUV, but it represents good value in a segment where six-figure price tags are growing increasingly common.
Read the full review
1 of 34
While outpowered by the Lincoln Navigator's turbo V-6, the QX80's naturally aspirated 5.6-liter V-8 makes a respectable 400 horsepower.
2 of 34
Sensory models get standard rear-seat entertainment. But the in-dash DVD player was axed in 2020.
3 of 34
One more Sensory hardware upgrade: steering assist that's based on vehicle speed rather than engine speed. It's nice and hefty feeling.
4 of 34
The new mid-level model, Premium Select, looks an awfully lot like last year's Edition 30, which also had dark 22-inch wheels.
5 of 34
The Sensory trim brings a hydraulic anti-roll system that delivers a serene ride.
6 of 34
With a maximum tow rating of 8,500 pounds, the QX80 can haul a sizable boat or camper trailer.
7 of 34
The QX80 can tow like a truck, but it also gets fuel economy like one: an EPA combined estimate of 15 mpg for 4WD models.
8 of 34
With 1,339 deliveries in April 2020, the QX80 had its best April ever.
9 of 34
This generation debuted in 2011 as the QX56 under Infiniti's old displacement-based naming conventions.
10 of 34
Also standard for 2021: a video-feed rearview mirror that delivers a view behind the vehicle even if a pile of road-trip gear is blocking the rear window.
Advertisement – Continue Reading Below
This content is created and maintained by a third party, and imported onto this page to help users provide their email addresses. You may be able to find more information about this and similar content at piano.io