View Photos of the 2021 Toyota Corolla SE Apex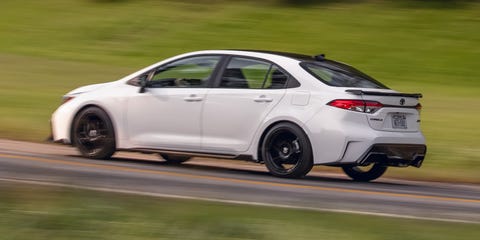 Michael SimariCar and Driver
The special-edition Corolla Apex takes its name from a package that Toyota offered on its hallowed rear-wheel-drive AE86 of the 1980s. It's a shame that the new car's stiff suspension and carryover powertrain make it feel like a half-baked effort.
Read the full review
1 of 43
The 2021 Toyota Corolla sedan is now available with an Apex package.
2 of 43
It includes a more aggressive body kit and is available with an optional $375 rear spoiler.
3 of 43
The body kit includes black lower trim and bronze accents.
4 of 43
The Apex also gets upgraded wheels and tires, with grippy summer rubber available as a no-cost option.
5 of 43
Toyota stiffened the suspension tuning, too, and the Apex sits 0.6 inch lower than a standard Corolla sedan.
6 of 43
What's not included in the Apex package is a more powerful engine. It has the same 169-hp 2.0-liter inline-four offered in SE and XSE models.
7 of 43
The Apex package is a $2385 to $2695 upgrade for SE and XSE sedans.
8 of 43
Of the 6000 total Apex models that will be produced, only 120 will have the six-speed manual transmission.
9 of 43
Our test car was equipped with the standard CVT automatic.
10 of 43
Our test car wore a $26,440 price tag.
11 of 43
2021 Toyota Corolla SE Apex
12 of 43
2021 Toyota Corolla SE Apex
13 of 43
2021 Toyota Corolla SE Apex
14 of 43
2021 Toyota Corolla SE Apex
15 of 43
2021 Toyota Corolla SE Apex
16 of 43
2021 Toyota Corolla SE Apex
17 of 43
2021 Toyota Corolla SE Apex
18 of 43
2021 Toyota Corolla SE Apex
19 of 43
2021 Toyota Corolla SE Apex
20 of 43
2021 Toyota Corolla SE Apex
21 of 43
2021 Toyota Corolla SE Apex
22 of 43
2021 Toyota Corolla SE Apex
23 of 43
2021 Toyota Corolla SE Apex
24 of 43
2021 Toyota Corolla SE Apex
25 of 43
2021 Toyota Corolla SE Apex
26 of 43
2021 Toyota Corolla SE Apex
27 of 43
2021 Toyota Corolla SE Apex
28 of 43
2021 Toyota Corolla SE Apex
29 of 43
2021 Toyota Corolla SE Apex
30 of 43
2021 Toyota Corolla SE Apex
Advertisement – Continue Reading Below
This content is created and maintained by a third party, and imported onto this page to help users provide their email addresses. You may be able to find more information about this and similar content at piano.io