View Photos of the Porsche Owners Experience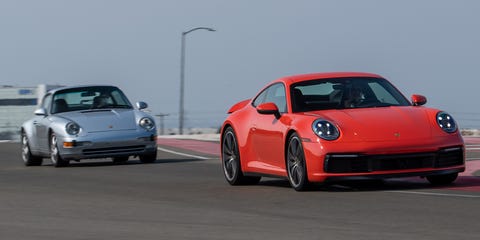 Jessica Lynn WalkerCar and Driver
The Porsche Owner Experience is a new school set up for owners to BYOPorsche to the test track at the Porsche Experience Center in Los Angeles. The school is held weekly and offers one-on-one instruction over a number of car-control modules. The 90-minute instruction and play time costs $395 plus a $50 damage waiver.
1 of 22
Track laps on the road course are lead-follow as in the student follows the teacher who sets the pace according to the driver's skill and willingness to go fast.
2 of 22
The school is open to Porsches with airbags and anti-lock brakes, which means every Porsche since 1990 and a few from the late '80s.
3 of 22
A mix of tight and high-speed corners, the road course at the Porsche Experience Center Los Angeles (PECLA) has short straights, which reduces the stress on brakes.
4 of 22
Instructors drive new Porsche 911 Carrera and Carrera S models, while students can run their own cars like this 1995 911.
5 of 22
Like the modern 911, the 1995 911 features a spoiler that retracts on its own.
9 of 22
The low-grip modules are run on wet and polished concrete that allows students to learn car control at low speeds.
10 of 22
One-on-one instruction is done after each module.
11 of 22
A tight autocross course helps instructors get a handle on their student's skill level.
12 of 22
The autocross course is a roughly 30-second course.
13 of 22
Old Porsches have more body roll than the new ones.
14 of 22
This is actually a braking zone. I swear it is.
15 of 22
On the low-grip surface, it's easy to experience and learn to catch the 911's rear end.
19 of 22
A wet skidpad teaches the basics of drifting without stressing the car or the tires.
22 of 22
Even after 25 years, the 911's roofline is unmistakeable.
Advertisement – Continue Reading Below
This content is created and maintained by a third party, and imported onto this page to help users provide their email addresses. You may be able to find more information about this and similar content at piano.io