Car Gifts under $20 That Are Perfect for Stocking Stuffers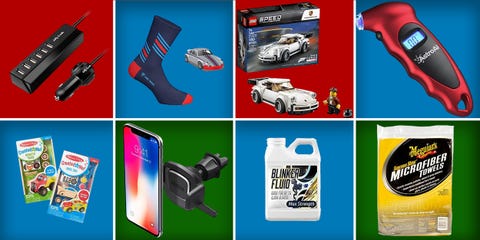 Michael SimariCar and Driver
If you're gift shopping on a budget or looking for the perfect little something for a car enthusiast's Christmas stocking, we found plenty of items to love for less than $20. Small glovebox-sized items that are handy for everyone, such as a digital tire-pressure gauge or an emergency safety hammer, will be gifts they didn't even know they needed. Also on our list are gifts they won't know they even wanted, including car-themed luxury socks, a handy dashboard smartphone mount, and a Porsche Lego set. We even have a couple of funny items here that will be a hit at your office (possibly remote) white-elephant gift exchange. Looking for even more gift ideas for the auto enthusiast in your life? Check out our comprehensive holiday gift guide.
AstroAI Digital Tire Pressure Gauge
Properly inflated tires are the first in a line of safety measures every driver should take with their car. This handy digital tire-pressure gauge fits perfectly in a glovebox—and a Christmas stocking.
Squirrel Air Freshener
Forget the tired old pine-tree air freshener; this squirrel in underpants is way funnier. It still smells "forest fresh," but the cheeky design is sure to be a hit with drivers who appreciate a certain brand of humor.
Bigfoot Air Freshener
Speaking of air fresheners, how about this pine-scented Sasquatch?
Universal French Fry Holder
This one is for diners on the go. This french-fry holder fits into any car's standard cupholder to keep your taters upright and within easy reach.
Saucemoto Dip Clip
How about these clip-on dip holders? They fasten to a car's vents and hold ketchup, ranch, honey mustard, or any preferred sauce for easy dunking of fries or chicken nuggets. These pair nicely with the french-fry holder above. 
Park Ranger Garage Parking Assistant
Big car, small garage? This shockingly low-tech parking assistant mounts to the garage wall and helps make sure you pull in and park in the exact right spot. Just watch the lines as you're pulling in and stop when they align.
Car Charger Adapter
Enough arguing over whose device gets the one USB port in your car. This six-port adapter plugs into any car's 12-volt outlet and provides charging for everyone's smartphone.
Heel Tread Socks
Normally, we'd be bummed to find socks under the tree for Christmas, but not these car-themed ones from Heel Tread. They come in several styles, all inspired by famous racing liveries. While you're at it, how about some driving shoes?
Olika Hydrating Hand Sanitizer Keychain
Hand sanitizer is more important in 2020 than ever before. Keep hands germless and healthy with this stylish and affordable sanitizer keychain.
Race Car and Monster Truck Wooden Craft Kits
These are for the youngsters. Melissa and Doug's wooden craft collection includes these automotive kits to build a monster truck or race car.
Car Safety Hammer
Can we get serious for a second? Every car should have one of these emergency escape tools to help break a window or cut a seatbelt. These are particularly important if you drive near bodies of water, because in the event you need to get out of a submerged vehicle, the escape needs to happen quickly.
Meguiar's Hybrid Ceramic Detailer
Any car owner will appreciate this Hybrid Ceramic detailing spray from Meguiar's. It fills tiny pores in your car's finish for better protection and superior water beading.
Meguiar's Supreme Shine Microfiber Towels
A staple of any car detailing kit is a pack of microfiber towels. These ones from Meguiar's are long-lasting and Car and Driver approved.
Chemical Guys Foaming Glass Cleaner
Everyone wants crystal-clear window and windshield glass in their vehicle. Avoid streaks and hazing with this great glass cleaner from Chemical Guys.
Car Vent Cleaner Cleaning Putty
We know this looks gross, but if you have a neat-freak perfectionist on your gift list, this dust cleaning gel will help them clean the tiniest particles from every nook and cranny in their car. Pro tip: this also works wonders on a dirty keyboard.
Maximum Strength Blinker Fluid
Have a good laugh over this eight-ounce bottle of blinker fluid. This is the perfect gag gift for the auto enthusiast in your life. 
Whipz Micro Racers
This fun little rechargeable race car glows in the dark and does little flips inside its clear stunt ball. It also comes with a keychain so it travel anywhere.
Lego Speed Champions 1974 Porsche 911 Turbo
Sure, you could spend over $300 on a 3000-piece Lego Technic kit, but this smaller Porsche 911 set costs less than $20 and is still a ton of fun.
Car Trash Can with Lid
Help them keep their car interior tidy with this handy car trash can. it's waterproof and lidded to keep wet or smelly things from leaking out and spoiling your upholstery. It can also be used as a small cooler.
iOttie Easy One Touch 4
Let's all make a New Year's resolution to be less distracted behind the wheel. It starts with a good smartphone mount, and we recommend this one from iOttie. More expensive versions with wireless charging are also available.
This content is created and maintained by a third party, and imported onto this page to help users provide their email addresses. You may be able to find more information about this and similar content at piano.io